HiReach Aerial Work Platforms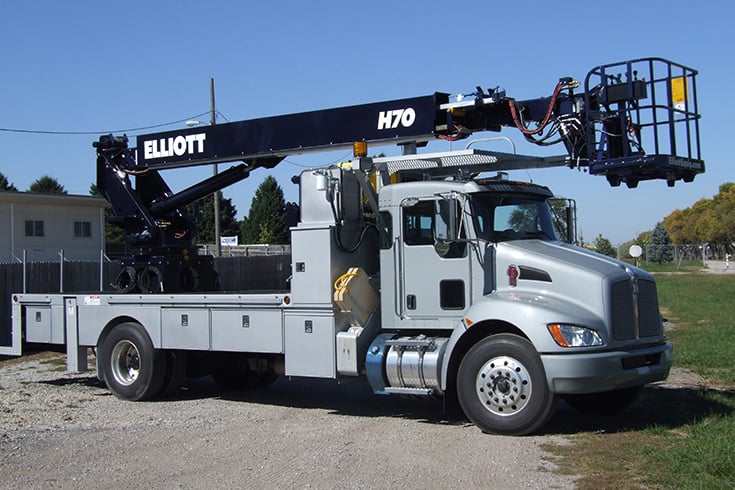 Working Height:
70′ / 21,3 m 
Working Side Reach:
62′ / 18,9 m
Main Winch Capacity:
5,900 lb / 2676 kg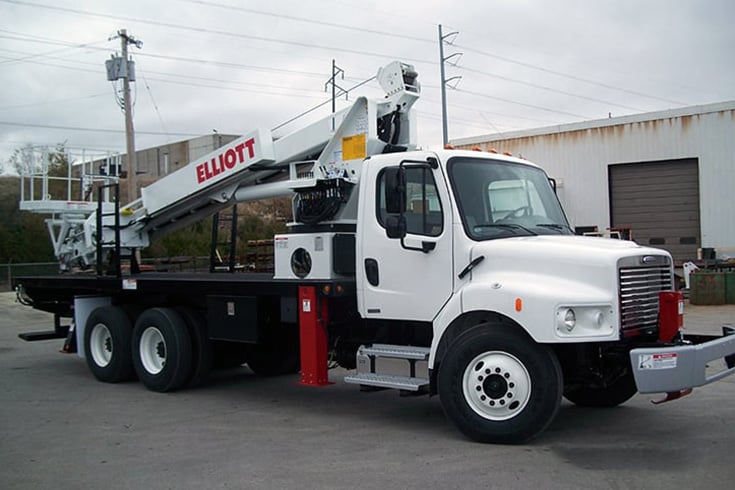 Working Height:
75′ / 23 m 
Working Side Reach:
58′ / 17,7 m
Main Winch Capacity:
5,900 lb / 2676 kg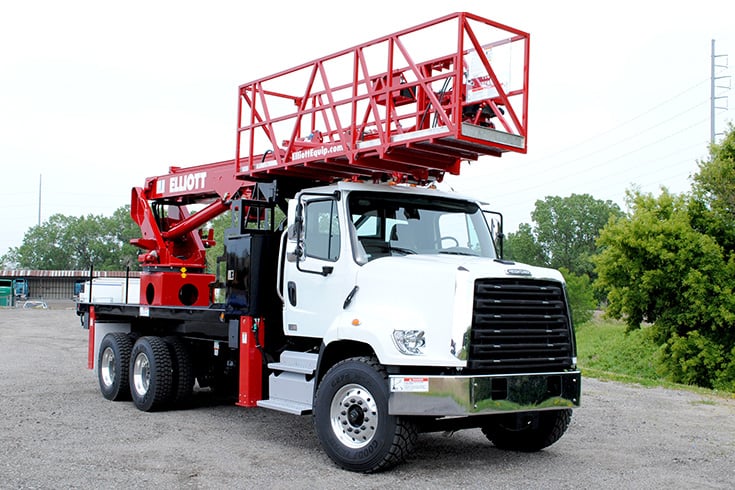 Working Height:
76′ / 23,2 m 
Working Side Reach:
71′ / 21,6 m
Main Winch Capacity:
5,900 lb / 2676 kg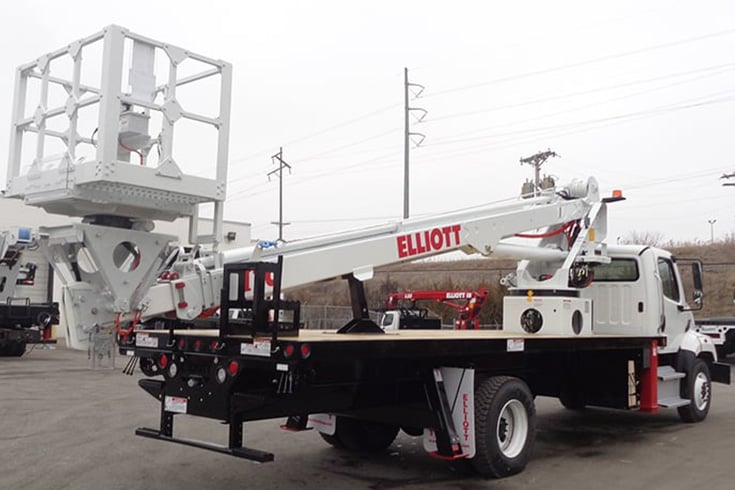 Working Height:
75′ / 23 m 
Working Side Reach:
61′ / 18,6 m
Main Winch Capacity:
3,650 lb / 1656 kg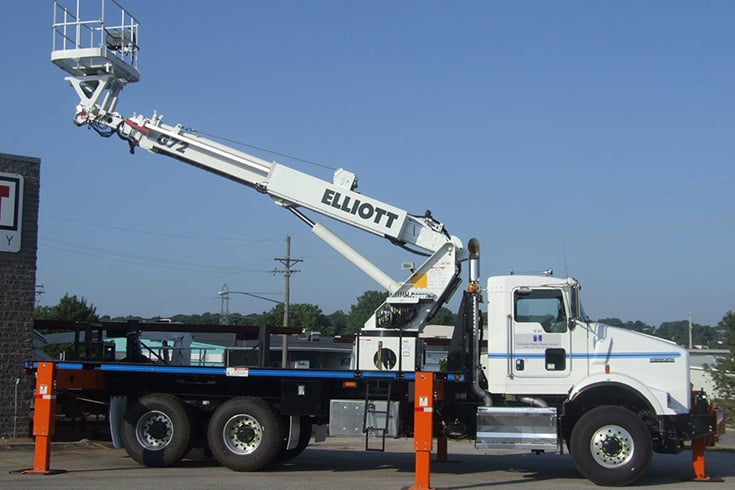 Working Height:
77′ / 23,5 m 
Working Side Reach:
63′ / 19,2 m
Main Winch Capacity:
5,900 lb / 2676 kg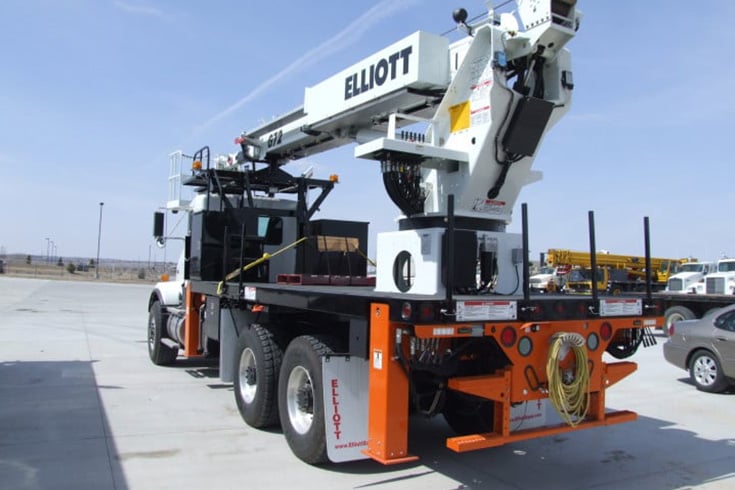 Working Height:
73′ / 22,3 m
Working Side Reach:
66′ / 20,1 m
Main Winch Capacity:
 5,900 lb / 2676 kg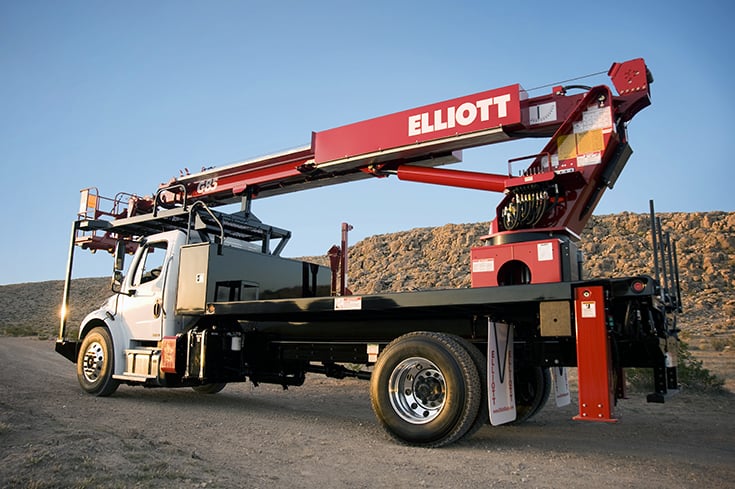 Working Height:
87′ / 26,5 m
Working Side Reach:
61′ / 18,6 m
Main Winch Capacity:
5,900 lb / 2676 kg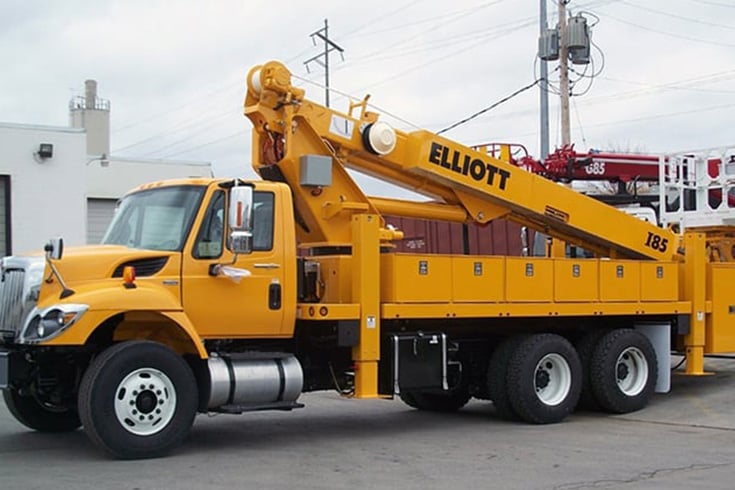 Working Height:
90′ / 27,4 m 
Working Side Reach:
59′ / 18 m
Main Winch Capacity:
3,650 lb / 1656 kg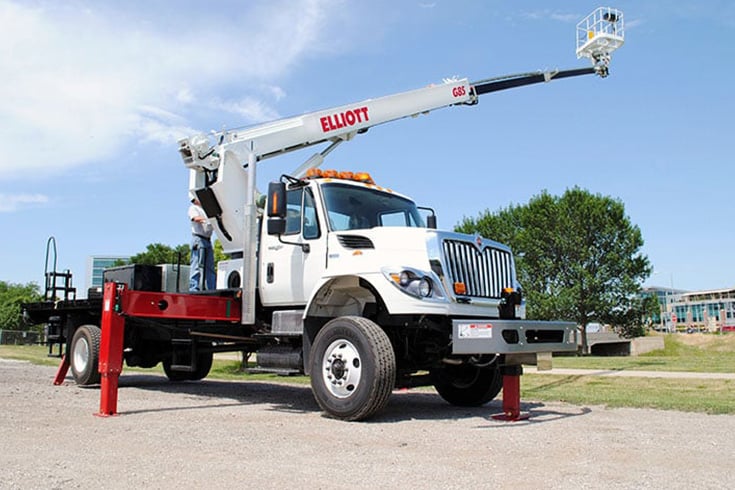 Working Height:
90′ / 27,4 m 
Working Side Reach:
58′ / 17,7 m
Main Winch Capacity:
5,900 lb / 2676 kg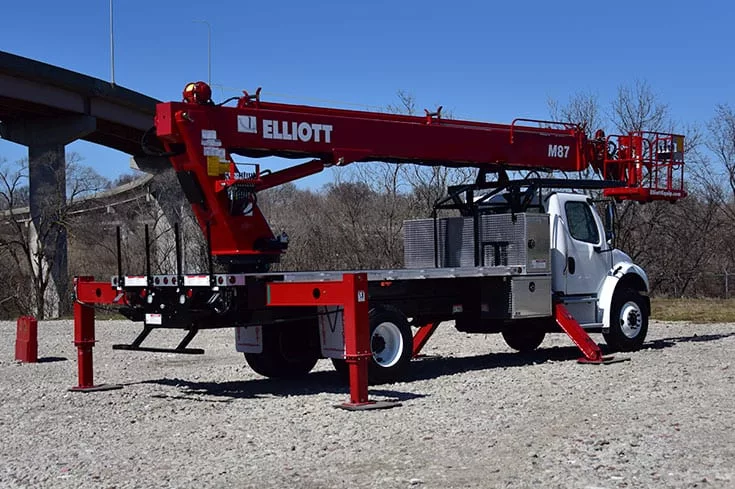 Working Height:
87′ / 26,5 m
Working Side Reach:
77′ / 23,5 m
Main Winch Capacity:
2,000 LB / 907 kg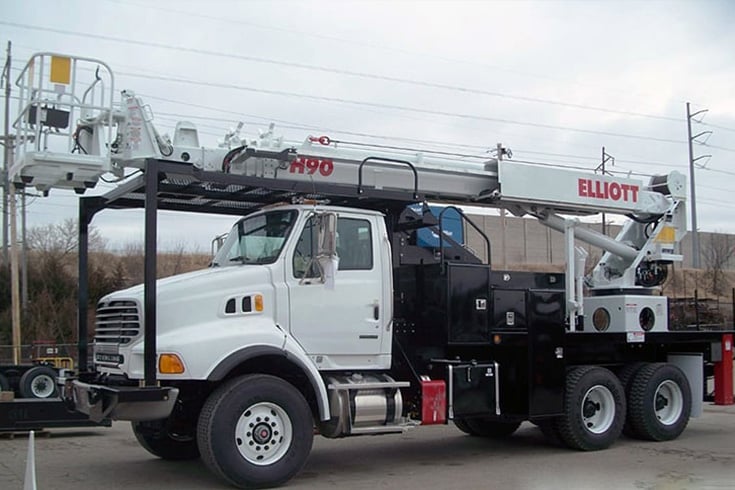 Working Height:
93′ / 28,3 m 
Working Side Reach:
65′ / 19,8 m
Main Winch Capacity:
14,000 lb / 6350 kg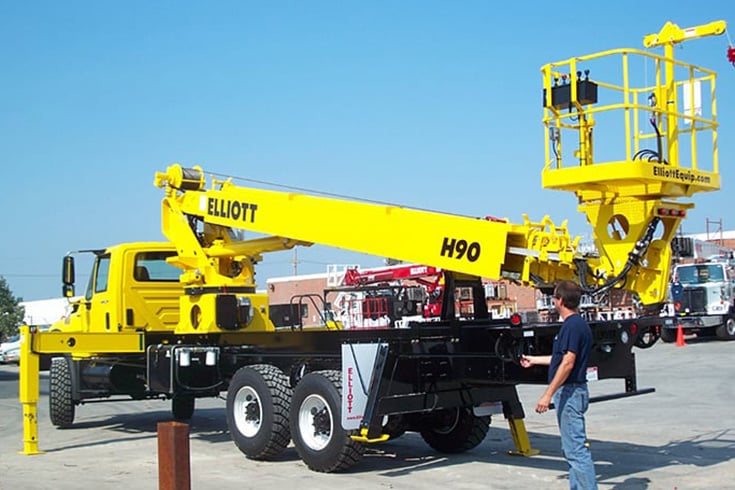 Working Height:
95′ / 29 m 
Working Side Reach:
61′ / 18,6 m
Main Winch Capacity:
14,000 lb / 6350 kg
Why Choose an Elliott HiReach?
Start with what you need in an aerial work platform. Other equipment manufacturers might try to mold your needs to their equipment, but at Elliott, we work with you to engineer a most valuable player for your most common job-site requirements. Whether it's special outriggers, custom toolbox and lighting, or platform productivity tools from our 'Office in the Sky' package, Elliott's engineers will work with you to make sure you have the most cross-functional piece of equipment for your industry.
And, while the features of your HiReach aerial work platform may be unique to your work environment, the bedrock on which we build all of our equipment remains the same. Our full-length, heavy-duty subframe is designed to disperse stress and maximize chassis life. In fact, all of the high-quality components that go into our service vehicles are designed to maximize service life and resale value. That's why we're able to back our equipment up with a lifetime structural warranty.
For technical specifications, feel free to download a product brochure for the category that interests you.
HiReach Standard Features
MAXIMUM UTILIZATION
HiReach multi-functionality lets you position workers and tools, lift loads and more with a single piece of equipment, maximizing utilization and ROI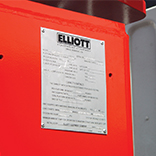 ANSI A92.2 Compliance
Every HiReach complies fully with all ANSI A92.2 design and manufacturing guidelines in personnel and material handling modes of operation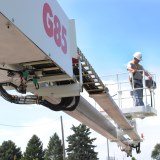 Fully Hydraulic Boom Extension System
Hydraulic and proprietary wearpad design provides a smoother and more reliable ride as well as reduced maintenance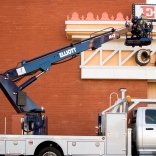 Point and Shoot Telescopic Boom Design
Eliminates tailswing, maximizes side reach and lets you do access more work area with a single setup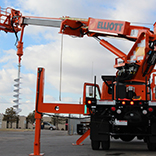 OFFICE IN THE SKY PLATFORM ACCESSORIES
Choose from a wide variety of available tools and circuitry to maximize productivity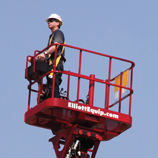 ROOM TO WORK
Elliott's 40"x60" platform offers twice the work surface of a two-worker bucket. With platforms up to 16 feet long, you can be sure you have the room you need to do your work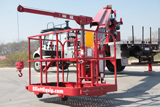 EZR Detachable Work Platform
Available on rear-mounted models, Elliott's patented design lets you remove your work platform in a matter of minutes, without tools or lifting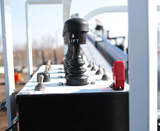 Exceptionally Smooth Controls
Elliott's controls are renowned for their smooth, precise operation, inspiring confidence and delivering enhanced productivity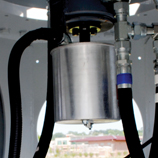 360 Degree Continuous Rotation
Continuous swivel system prevents hoses from breaking and allows work in any position –  front, back or side of truck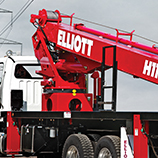 FULL-LENGTH HEAVY-DUTY SUBFRAME
The foundation of your ride starts at the subframe. Only Elliott offers a full-length subframe, plated top and bottom, on every machine we build. This reduces chassis twist and results in a more controlled ride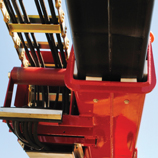 Heavy Duty Cable Carrier
More available space lets you do more work in the platform with a wide range of tools and accessories including welding leads, air hoses, washer lines and more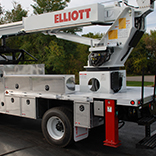 High-Quality, Off-the-Shelf Components
For trouble-free operation, easy service and affordable replacement parts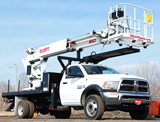 Outstanding Resale Value
Elliott's heavy duty design and high quality components give you an exceptionally long useful life and superior resale value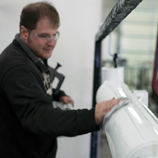 Lifetime Structural Warranty
Only Elliott backs up its quality with a lifetime structural warranty on everything we build
HiReach Optional Features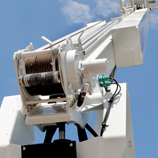 Main Boom Winch
Allows you to safely lift materials with your HiReach. Load charts comply with ANSI A92.2 standards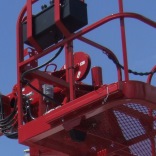 Multiple Platform Sizes
Choose from a variety of platform sizes and capacities to fit you, your tools and the way you work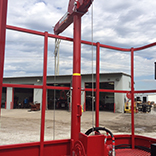 Platform Material Handling Jib Winch
Acts like an extra set of hands, to lift and position loads directly from within the work platform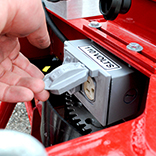 110V Electrical Outlet
Power your electric tools and batteries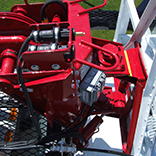 Welder Leads to Platform
Connect easily with your bed-mounted welder to avoid having to drag cables into the air or carry the welder in the platform
Oxy Acetylene Hoses to Platform
Attach to your oxy/acetylene tanks on the bed for a secure and safe connection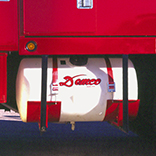 Pressure Washer
Washer tank and pump mounted to the bed with washer hoses routed through the boom and into the platform.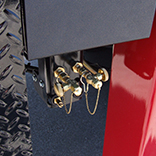 Hydraulic Tool Circuits
Located in the platform or on the body provide power for your hydraulic tools. Includes flow control knobs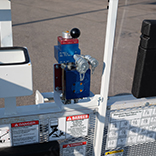 Hydraulic Intensifier
Ramps up hydraulic pressure to 10,000 psi for using high-pressure hand tools from within the work platform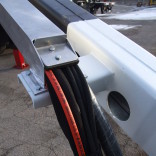 ANFO Hose to Platform
Elliott's cable carrier can handle an ANFO hose for explosive placement from within the work platform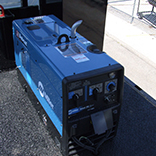 Welder/Generator
Choose from the top names in gas, diesel or hydraulic powered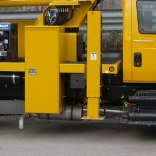 Oxy-Acetylene Bottle Holders
Keep you bottles secure and out of the way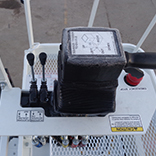 Full Pressure Hydraulic Controls
Full pressure hydraulic controls for work that requires non-electrical controls in the work platform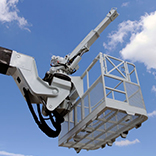 Hydraulically Rotating Platform
Maximizes your effective work area and keeps you facing the job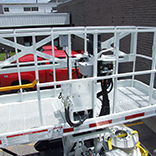 Multiple Platform Sizes
Choose from a variety of platform sizes and capacities to fit you, your tools and the way you work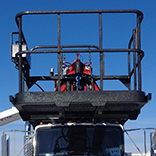 DUR-A BULL COATED PLATFORM
Simultaneously increase protection and comfort by adding DUR-A-BUL coating to your platform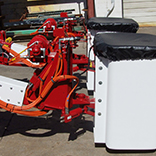 Fiberglass Work platform
Adds a non-rated electrical barrier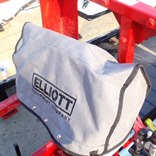 Control Box Cover
Protects your controls from the elements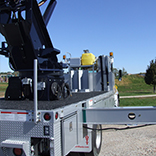 Automatic Safety Rotation Lockout
Allows shortjacking of units with out and down outriggers by preventing movement over the non-extended side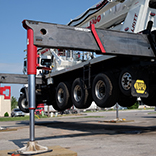 OVER GUARD RAIL OUTRIGGERS
Extra-long vertical stroke outriggers give you more ground penetration, minimizing cribbing and allowing setup over guardrails and other challenging locations
Line Body Storage Solutions
Clean, one piece compartmentation for your tools and accessories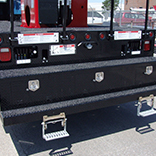 Rear Step Bumper
Provides additional work area and rapid access to the chassis bed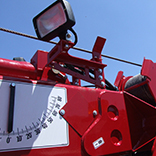 Boom Mounted Work Lights
Illuminate your work, increasing efficiency and ability to get extra jobs done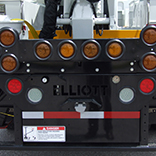 Specialized Safety and Emergency Lighting
Choose from dozens of illumination and emergency lighting options on your equipment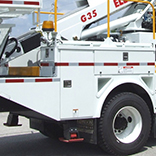 Conspicuity Striping
Adds visibility to your unit. Great for work in high traffic areas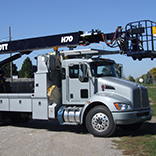 Custom Paint
We know your HiReach is your brand. We can paint your unit to your exact color scheme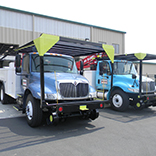 Rail Gear
Elliott can add your choice of rail gear to allow for use of your unit on tracks. Special counterweight packages are also available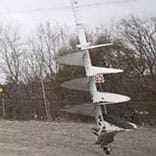 DIGGER
You can add a post hole digger to your HiReach, allowing you even more functionality