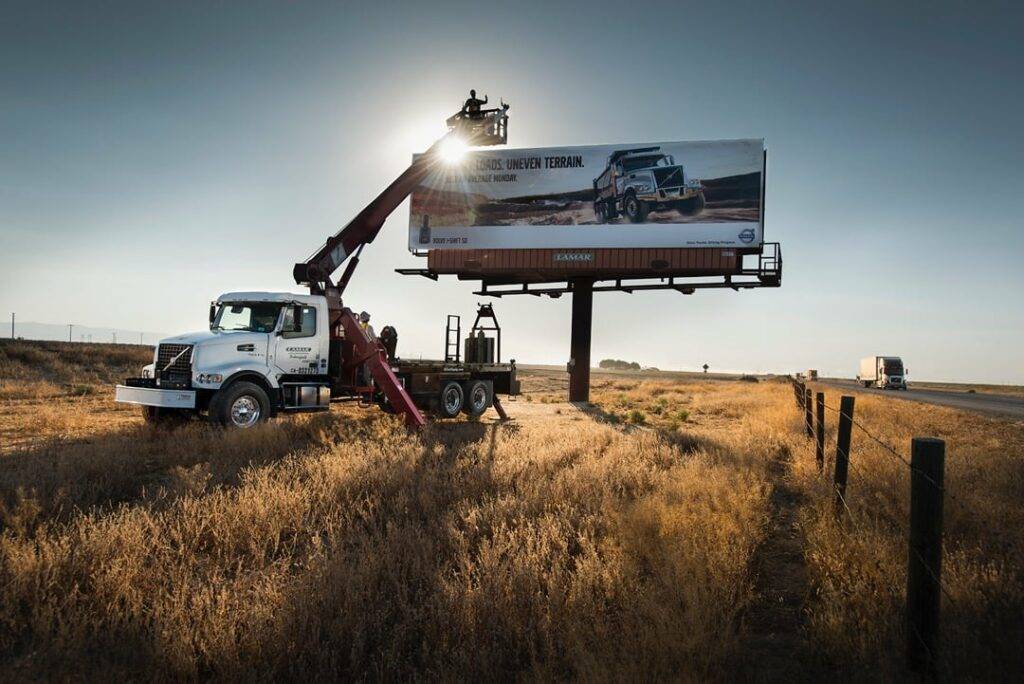 Sign & Lighting HiReach Aerials & Boomtruck Cranes
Designed and engineered for the sign industry, by the sign industry. Elliott's range of HiReach telescopic material-handling sign trucks and BoomTruck sign cranes are designed to make your signage and lighting work more efficient, and your company more profitable. With an Elliott sign truck, you can lift multiple people and materials, reach far and wide and increase your ability to handle more work.
Elliott Equipment Company sign trucks feature the lowest cost of ownership in the industry, thanks to increased operator efficiency, minimal maintenance costs and the industry's best resale value. Plus, Elliott sign trucks have a reputation of helping companies attract and retain the most talented operators.
Material Handling Both Up High and Down Low
Turning a two-truck job into a one-truck operation reduces costs and boosts productivity. That's why Elliott sign trucks are designed with material handling options both on the boom and within the work platform. The high capacity main boom winch is run from the lower controls to lift loads with the work platform attached or removed. Elliott's EZ-Stow jib winch conveniently stows within the work platform and, when extended, lifts 500 lb at multiple angles, reducing the need for a second crane on the job site as well as simplifying its use.
Side Reach
Sign and lighting work often requires reaching far over the side from roadways or parking lots. That's why Elliott sign trucks are designed to give you outstanding side reach to expand your working range. All Elliott HiReach aerials feature two-person work platforms and can be equipped with all the tools you need to do the work at height. This gives you more flexibility and the ability to do more work with a single machine.
Dynasmooth Controls
Built for reliability and simplicity, Elliott's Dynasmooth controls come with industry-leading sensitivity features that allow the operator to conveniently adjust engine speed and controller voltage to smoothly feather the controls for a gentle ride, even when rotating the boom at heights over 100 feet. To maximize the sensitivity, Elliott HiReach models incorporate large diameter and high flow hydraulics to give speed when it's needed and allow gentle movements when it isn't.
"Office in the Sky" Platform Accessories
Elliott sign trucks feature oversized steel work platforms with more space for personnel and tools on the job site. To assist with getting work done at height, Elliott's oversized cable carrier can carry multiple tools into the work platform to maximize productivity including 110V, welding leads, oxy/acetylene hoses, air hose, pressure washer hose and a hydraulic jib winch. For added flexibility, Elliott offers extendable sign forks on the front of the work platform to carry channel letters and sign faces to the work area.
Work When Space Is Tight
Elliott's outrigger designs allow for a range of setups while reducing overall weight and maximizing stability. Elliott service trucks like the V60 and M43 HiReach can work in spaces as narrow as 8 feet wide – the width of a single parking stall. Machines with out-down outriggers can be short-jacked using Elliott's automatic-safety rotation lockout option, which uses interlocks to prevent the boom from rotating to the side of the machine with reduced outrigger spread.
Customized For How You Work
Elliott has one of the industry's strongest reputations for customization. This means more than just adding boxes or changing paint colors, its building unique equipment specifically designed to make your operators more productive and make your brand stand out from the crowd. Contact us today to see examples of what we can build for your business.
Lifetime Structural Warranty
All Elliott machines are backed by a lifetime structural warranty for your peace of mind.
Elliott has invested time and resources in the details that make each sign truck a trusted long-term investment. These design features include:
Smooth and dependable hydraulic boom extension.
Spacious two-person platforms for room to work.
Operator-friendly electrical and hydraulic design for a long equipment life and easy serviceability.

Full-length subframe minimizes chassis twist, extends chassis life and enhances platform ride

Weight conscious design improves fuel efficiency

The strongest turret to turret box connection in the industry (highest number of bolts and the widest bolt diameters).
Large diameter hydraulic lines for more flow and increased speed during setup and operation.
Fewer proprietary parts than the competition for reduced costs and easier parts availability.
Platform stowable jib winch rated to 500 lb.
2,000-lb to 14,000-lb main boom winch.
"Office in the Sky" work platform tool accessories – Includes 110V lines, welding leads, oxy/acetylene hoses, pressure washers and more.
Material handling sign forks on the platform.
Cabguard walkway access to the work platform in the stowed position.
Automatic safety rotation lockout allows short jacking MH outriggers.
Steel, aluminum or wood flatbeds.
Custom steel ICC bumpers with steps and storage.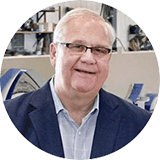 "Elliott Equipment Company and their distributors understand the needs of our industry and our company. They are very professional and committed hard working people that do all they can to service their customer's needs."
Bernie Dardis
CEO / Indigo Signworks