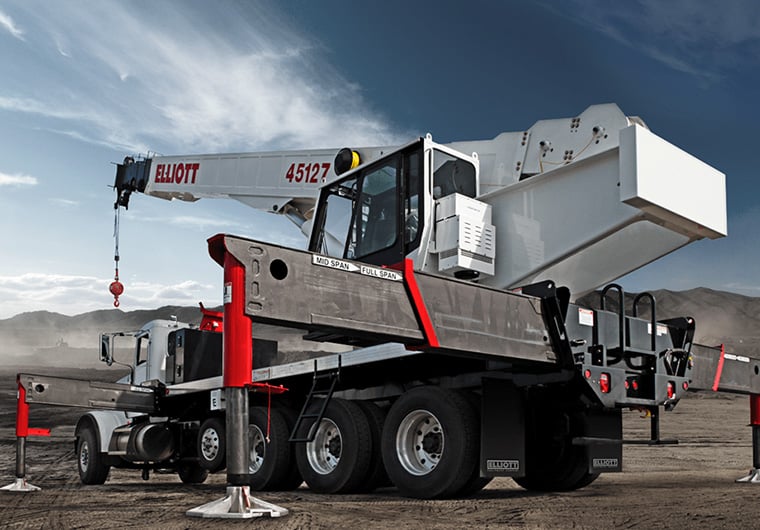 Unlock Your Potential with Elliott Boomtruck Cranes
Are you ready to elevate your performance and tackle your toughest jobs with confidence? Choose Elliott Boomtruck Cranes and experience the power, versatility, and customizability that set us apart. Let us help you design the ultimate machine that will exceed your expectations and help you achieve unparalleled success. Elevate your potential with Elliott Equipment Company.
Why Choose an Elliott BoomTruck?
Industry leaders choose Elliott because we listen and work with you to engineer the most hardworking equipment for your particular job-site requirements. We want your equipment to fit you, not the other way around.
Whether it's specialized rail gear, work platform and remote controls, high-capacity digging equipment, a mounted welder generator or a huge array of other features, we're here to customize the right piece of equipment for your application.
And while the features of your BoomTruck crane may be unique to your work environment, the foundation on which we build all of our equipment remains the same. Our structural components are built to last. In fact, all of the high-quality components that go into our cranes are engineered to maximize service life and resale value. That's why we're able to offer a two year parts and labor warranty and lifetime structural warranty on every Elliott crane. Smooth performance, long life, reliable operation tailored for your work practice. That's why people choose Elliott for their most demanding jobs.
Experience Unmatched Performance with Standard Features on Elliott BoomTrucks
Elliott BoomTrucks are engineered to deliver exceptional performance and versatility, backed by industry-leading warranties. With a wide range of standard features designed to enhance productivity and safety, our BoomTrucks are the ultimate solution for your lifting needs. Let's explore the exciting features that set us apart:
Innovative Ultra-Low Chatter Boom Design
Elliott's proprietary ultra-low chatter boom design sets a new standard for smooth operation and precise control. Say goodbye to unwanted vibrations and enjoy a stable lifting experience like never before. Our boom design maximizes efficiency and minimizes downtime, allowing you to focus on the task at hand.
Efficient Outrigger Setup
Save valuable time with our high-speed outrigger setup. Designed for efficiency, our BoomTrucks allow you to get to work quickly and safely, maximizing productivity and reducing setup time on the job site.
Friction-Free Jib Extension
Experience seamless jib extension with our friction-free design. Extending the reach of your BoomTruck is now simpler and more efficient, allowing you to position your load with ease.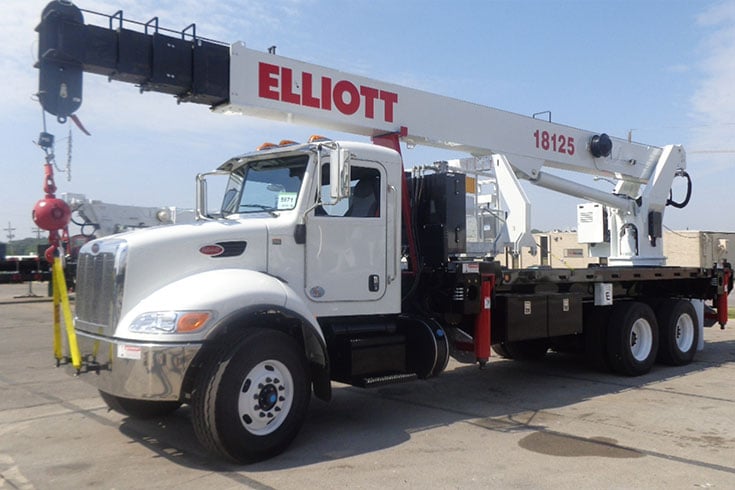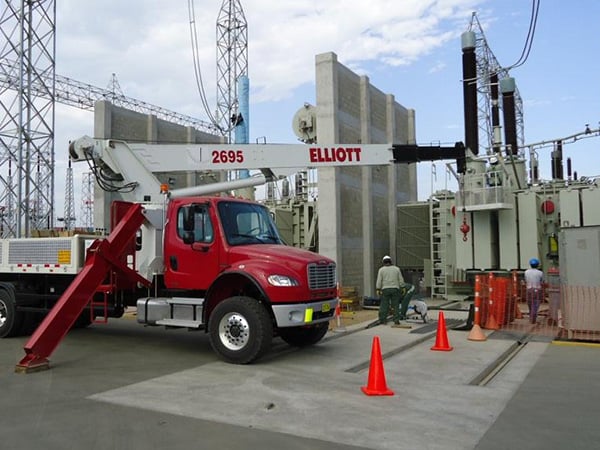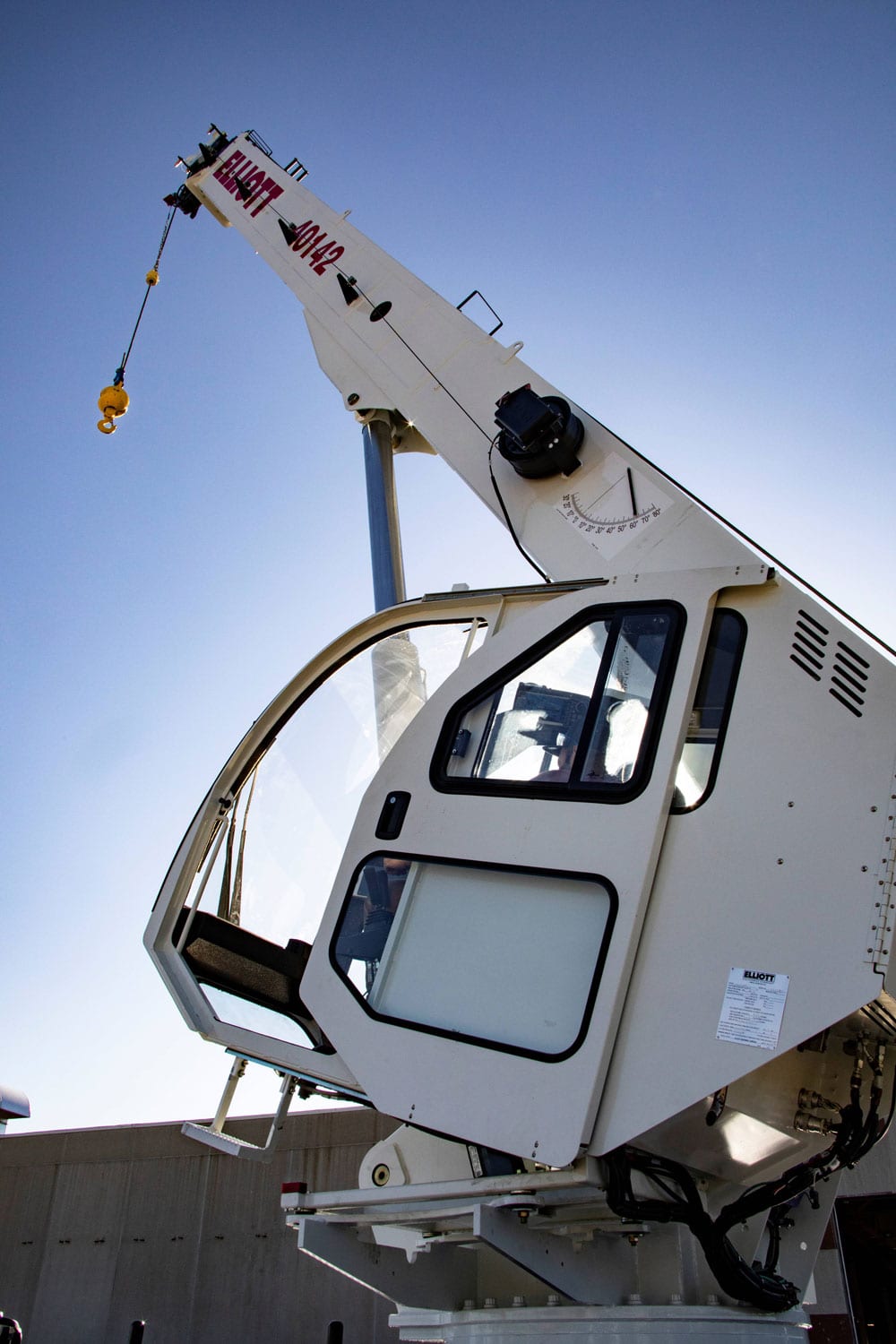 Optimized Boom Pin-Point Geometry
Elliott BoomTruck Cranes feature optimized boom pin-point geometry that provides power throughout the entire range of motion.
Enhanced Safety and Durability
At Elliott Equipment Company, safety and durability are paramount. Our reinforced boom tip and accessory mounting 'ears' ensure that your equipment remains secure during operation. Heavy-duty rotation bearings and solid steel boom sheaves guarantee long-lasting performance, even in the most demanding environments. Easy-access wear pad adjustment and boom servicing, along with color-coded hydraulic hoses, make maintenance a breeze, saving you time and effort.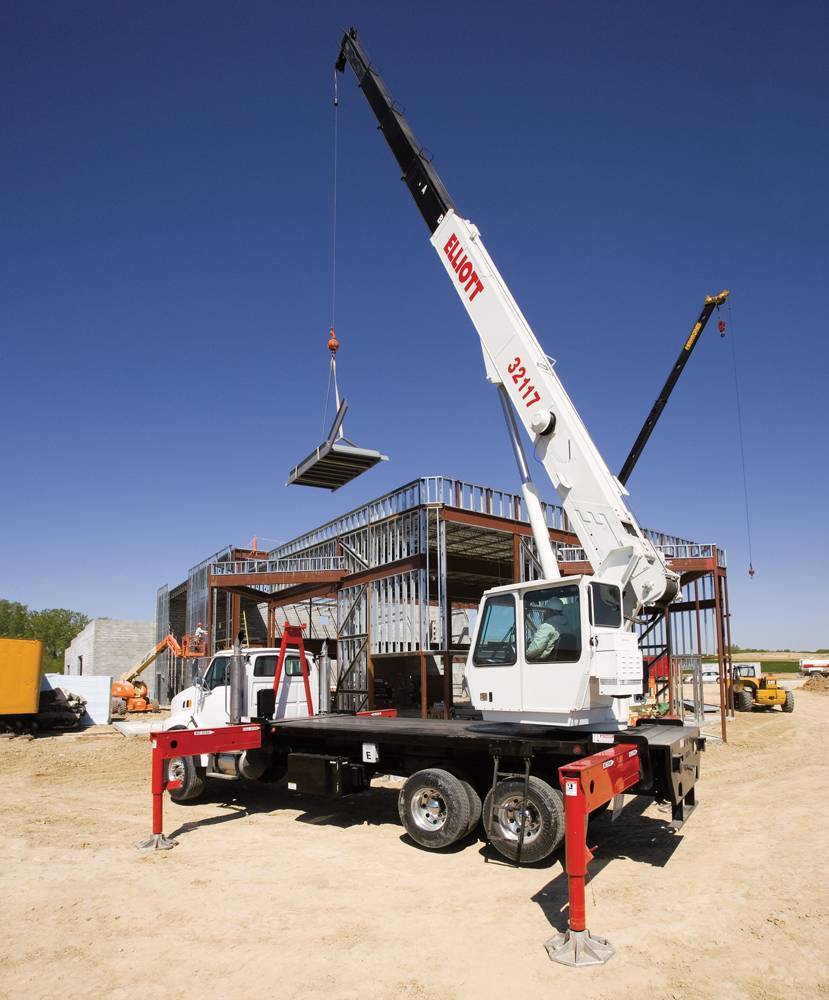 Comfort and Convenience for Operators
Operator comfort and ease-of-use are top priorities at Elliott. Our BoomTrucks are equipped with features designed to enhance productivity and reduce operator fatigue. From the patented Standup Ride-Around Control console and seated controls to the tilting crane cab, every aspect is carefully designed with worker comfort and safety in mind. Increase your productivity and enjoy a more efficient work experience.
Advanced Control and Monitoring
Elliott's Bluetooth remote machine diagnostics enable seamless communication and troubleshooting, enhancing efficiency and minimizing downtime. Stay in control with our full-color interactive Load Moment Indicator (LMI). This advanced feature provides real-time feedback, ensuring that you operate within safe working limits.
Customize to Meet Your Needs
Every job is unique, and we understand that. That's why Elliott offers the flexibility to choose between oil/oil or electric/hydraulic controls, providing a customized experience that suits your preferences. With optional swing-around jibs and versatile rotation options, our BoomTrucks adapt to your specific lifting requirements.
Unrivaled Warranty Protection
When you choose Elliott, you're investing in peace of mind. Our BoomTrucks come with an industry-leading two-year parts and labor warranty, ensuring that you're covered when it matters most. Additionally, our lifetime structural warranty gives you the confidence that your investment is protected for the long haul.