26 - 36 Ton LIfting Capacity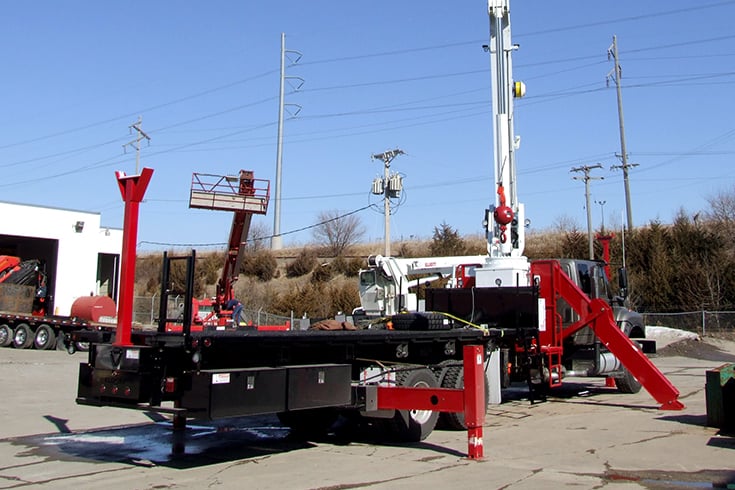 Lifting Capacity:
52,000 lb / 23 587 kg
Boom Length:
51' / 15,5 m
Maximum Tip Height:
 61′ / 18,6 m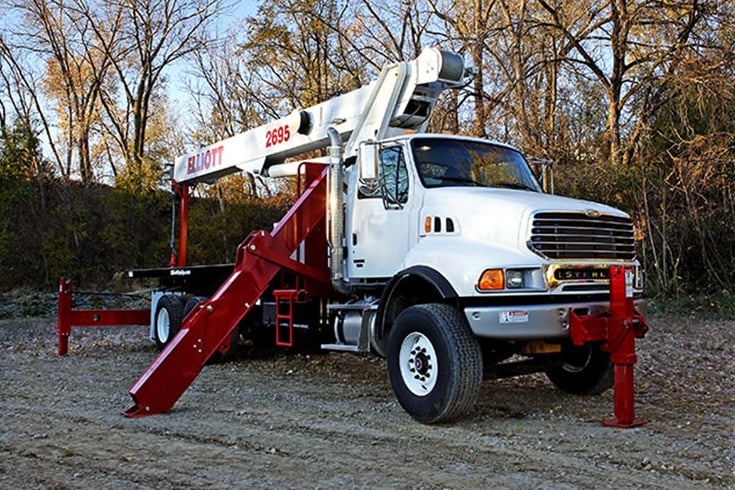 Lifting Capacity:
52,000 lb / 23 587 kg
Boom Length:
95' / 29 m
Maximum Tip Height:
 152′ / 46,3 m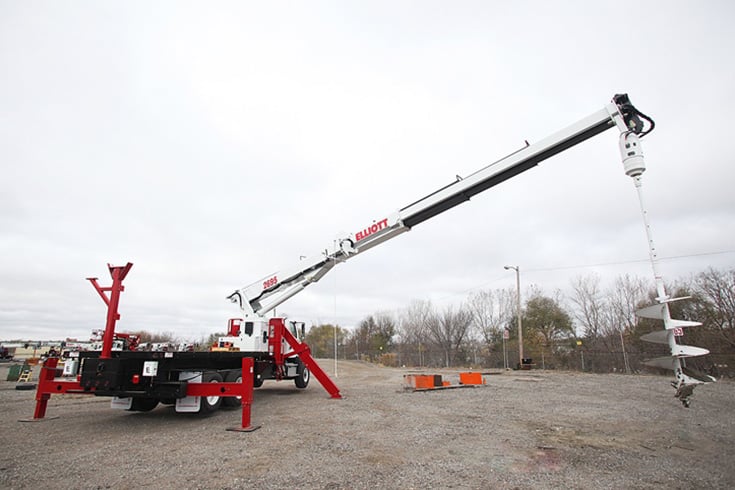 Lifting Capacity:
52,000 lb / 23 586 kg
Boom Length:
95′ / 29 m
Maximum Tip Height:
152′ / 46,3 m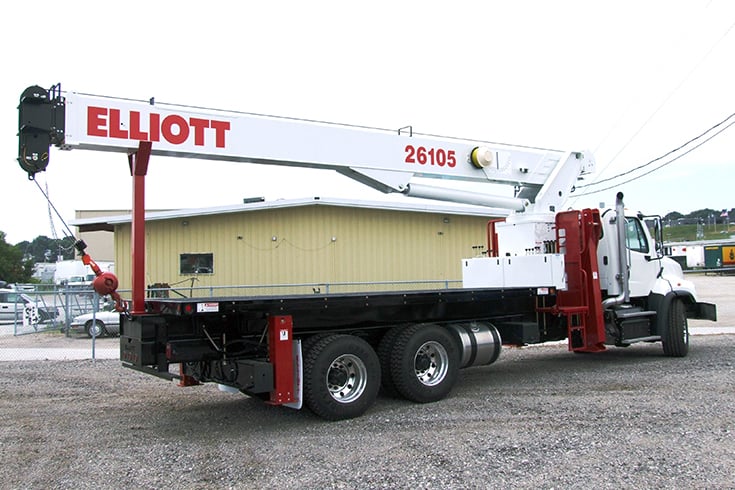 Lifting Capacity:
52,000 lb / 23 587 kg
Boom Length:
105' / 32 m
Maximum Tip Height:
162′ / 49,4 m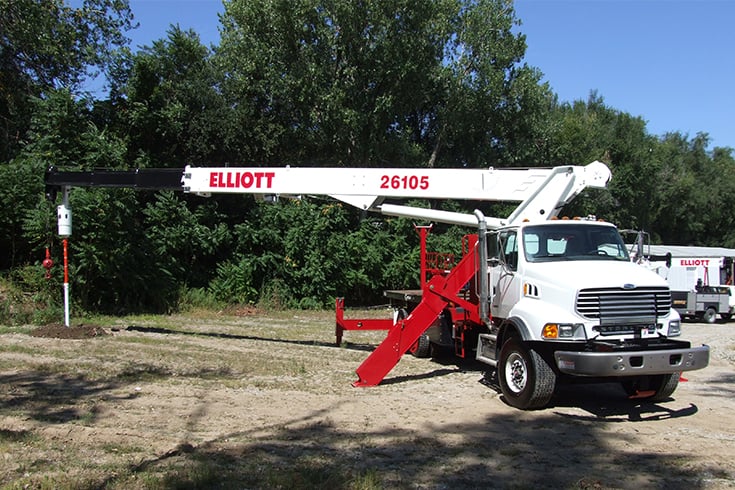 Lifting Capacity:
52,000 lb / 23 587 kg
Boom Length:
105' / 32 m
Maximum Tip Height:
 162′ / 49,3 m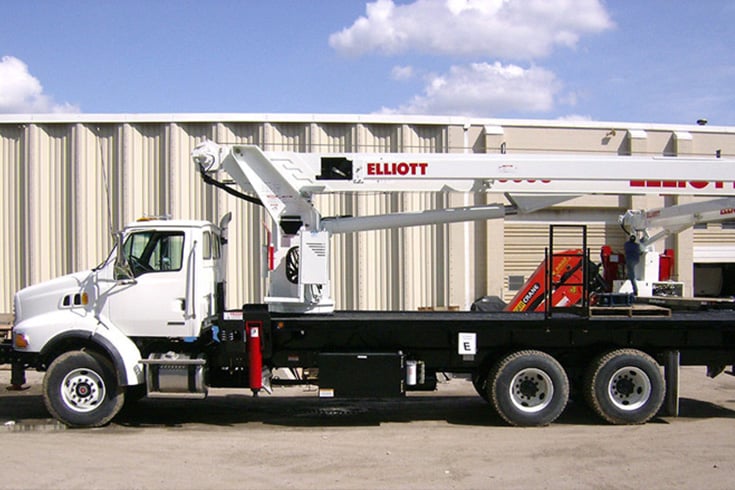 Lifting Capacity:
60,000 lb / 27 215 kg
Boom Length:
95' / 29 m
Maximum Tip Height:
 148′ / 45,1 m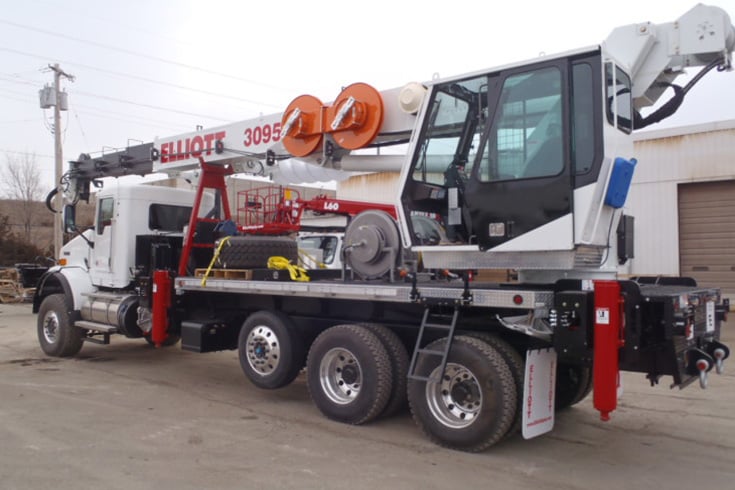 Lifting Capacity:
60,000 lb / 27 215 kg
Boom Length:
95' / 29 m
Maximum Tip Height:
148′ / 45,1 m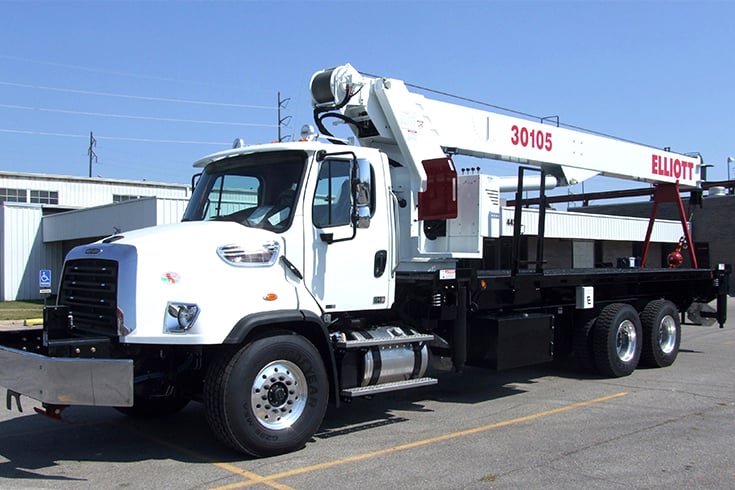 Lifting Capacity:
60,000 lb / 27 215 kg
Boom Length:
105' / 32 m
Maximum Tip Height:
162′ / 49,4 m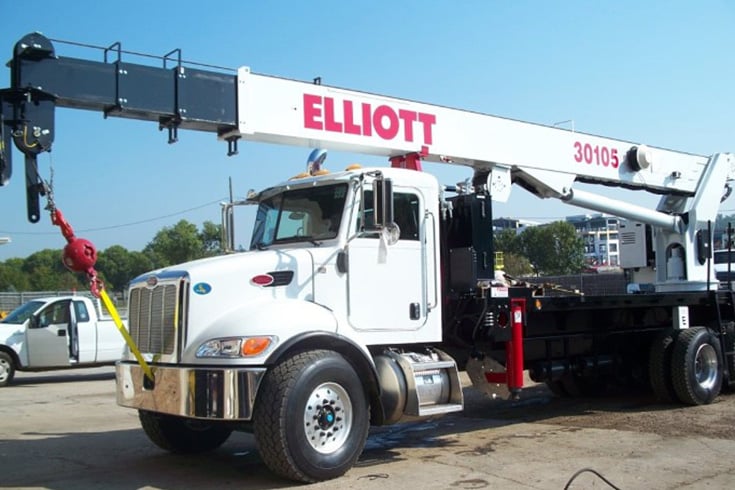 Lifting Capacity:
60,000 lb / 27 215 kg
Boom Length:
105' / 32 m
Maximum Tip Height:
162′ / 49,4 m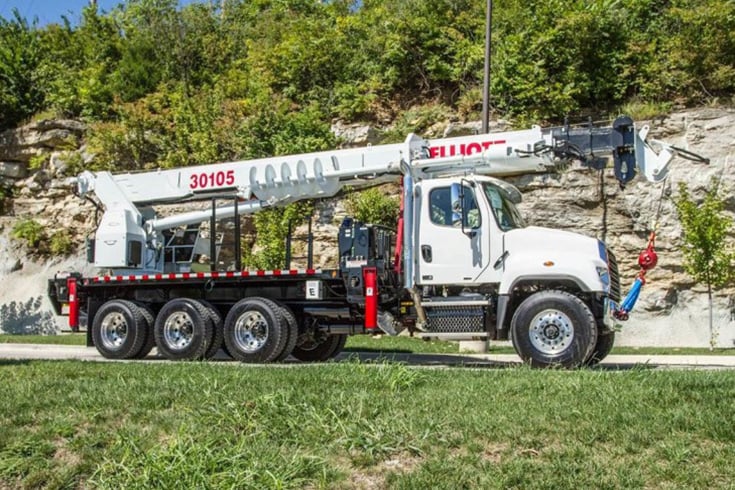 Lifting Capacity:
60,000 lb / 27 215 kg
Boom Length:
105' / 32 m
Maximum Tip Height:
162′ / 49 m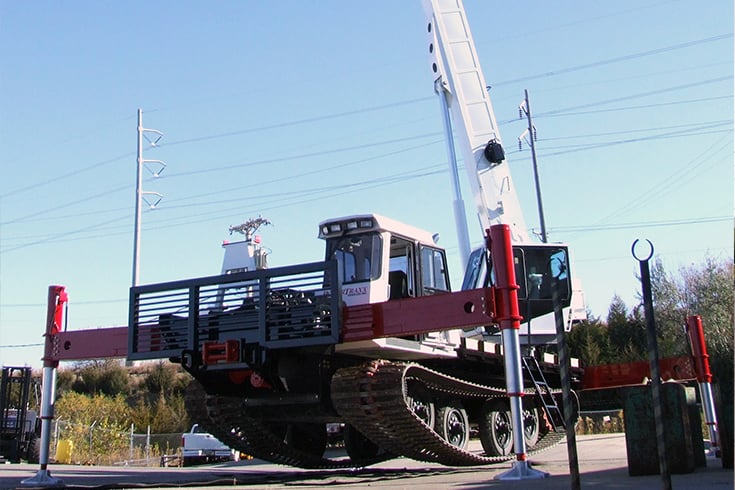 Lifting Capacity:
68,000 lb / 30 844 kg
Boom Length:
127' / 39 m
Maximum Tip Height:
186′ / 57 m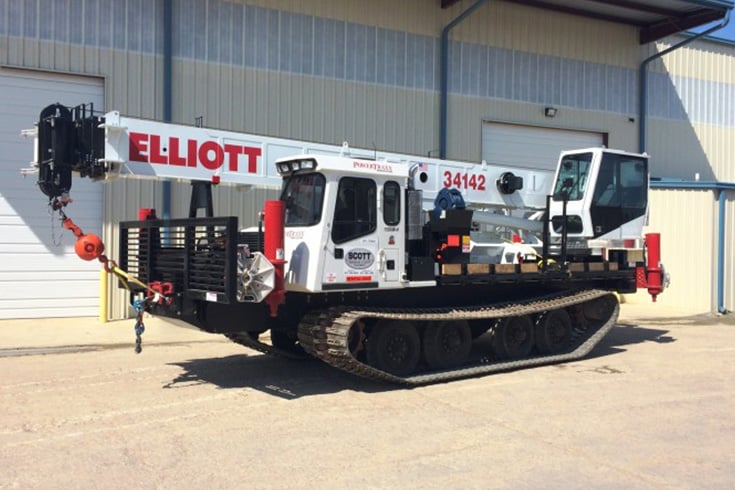 Lifting Capacity:
68,000 lb / 30 844 kg
Boom Length:
142′ / 43,3 m
Maximum Tip Height:
201′ / 61,3 m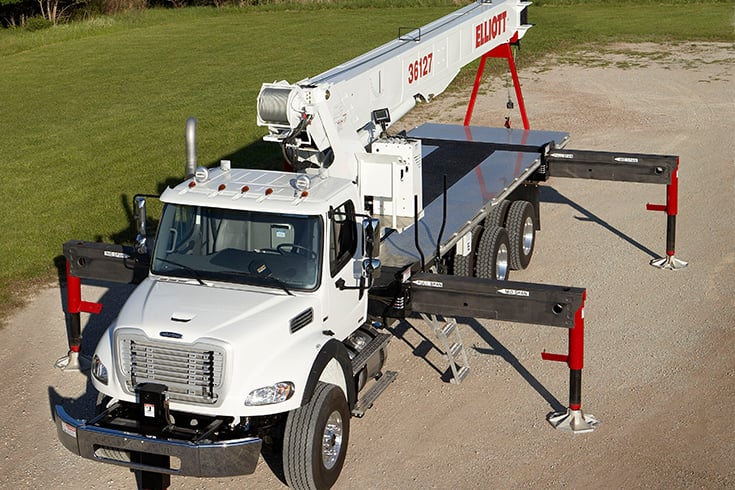 Lifting Capacity:
72,000 lb / 32 659 kg
Boom Length:
127' / 39 m
Maximum Tip Height:
186′ / 57 m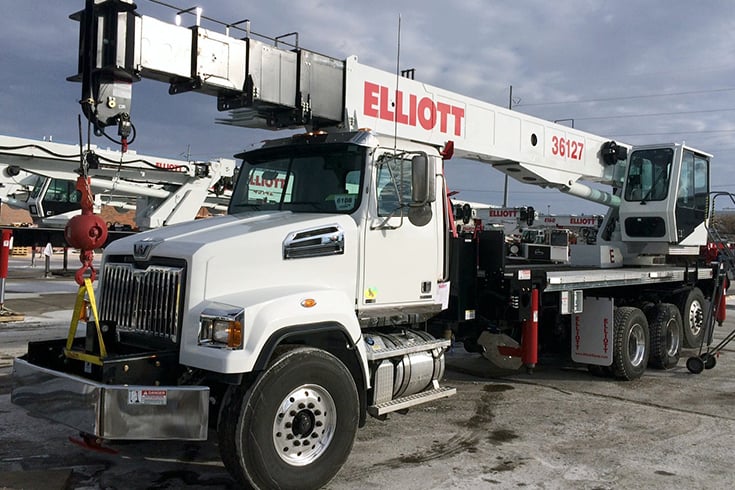 Lifting Capacity:
72,000 lb / 32 659 kg
Boom Length:
127' / 39 m
Maximum Tip Height:
186′ / 56,7 m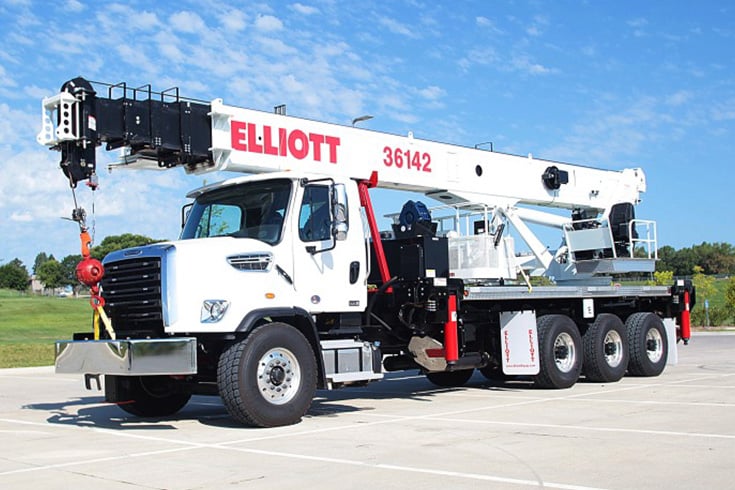 Lifting Capacity:
72,000 lb / 32 659 kg
Boom Length:
142' / 43,3 m
Maximum Tip Height:
201′ / 61,3 m
Why Choose an Elliott BoomTruck?
Start with what you need in a boom truck. Other equipment manufacturers might try to mold your needs to their equipment, but at Elliott Equipment Company, we work with you to engineer the most hardworking equipment for your particular job-site requirements. Whether it's specialized rail gear, high-capacity digging equipment, a mounted welder generator or a huge array of other features, we're here to customize the right piece of equipment for your application.
And while the features of your BoomTruck crane may be unique to your work environment, the foundation on which we build all of our equipment remains the same. Our full-length, heavy-duty subframe is designed to disperse stress and maximize chassis life. In fact, all of the high-quality components that go into our cranes are designed to maximize service life and resale value. That is why we're able to back up all of our equipment with a lifetime structural warranty.
BoomTruck Standard Features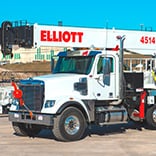 Industry-Leading Lifetime Structural Warranty
Only Elliott backs up its quality with a lifetime structural warranty on everything we build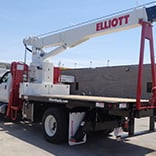 Wide Range of Lifting Capacities and Boom Lengths for Many Applications
Elliott has one of the broadest ranges of boom lengths available for virtually every application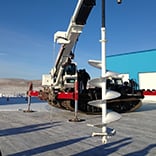 Highest Torque and Radius Boom Truck Diggers on the Market
Gives your machine even more versatility and the ability to do more jobs increasing your ROI. Up to 20,000 ft/lbs of torque and a 44′ digging radius.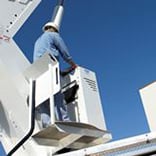 Patented Features that Improve Productivity & Safety
Patented features like Elliott's Standup Ride-Around Control Console improve operator comfort and productivity.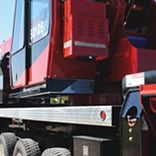 Full Length Subframe
Plated subframe minimizes twist from chassis rails providing rock solid foundation for your work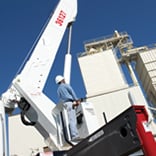 Optimized Boom Pin-Point Geometry
Maximizes low angle lifting power and greatly enhances digger performance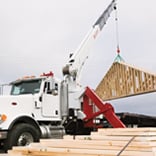 High Capacity Single Line Pull Winches
Let you lift more weight with fewer wraps of rope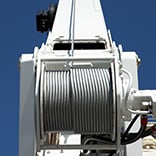 High Capacity Two-Speed Winch
improves control and speeds job cycle time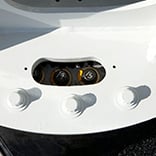 Heavy-Duty Turret Rotation Bearing
Larger size reduces equipment stress and provides a longer life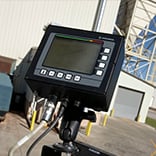 Full Color Load Moment Indicator (LMI)
Provides clear lifting feedback for increased safety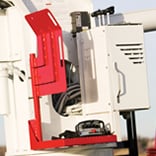 Ride-Around Standup Control Console
Available on 18125, 30, 32, and 36 ton models. Allows operator to travel with the boom for optimal view of the work, as well as eliminating neck strain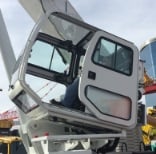 Steel Enclosed Crane Cab with Diesel Heater
Rotating seated controls with tilting cab and deluxe heated operator seat with air conditioning and heater. Includes glide swing and manual foot brake.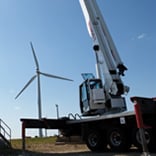 Multi-Mode Glide Swing Rotation
Swing freely with load using glide swing and brake or engage rotation gear as needed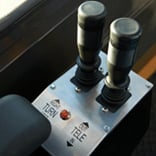 Your Choice of Oil/Oil or Electric/Hydraulic Controls
Different operators prefer different controls. No matter which you prefer, we have you covered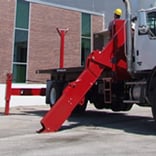 High Speed Outrigger Setup
Elliott's high speed outriggers dramatically improve setup times.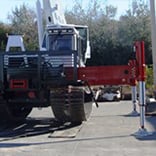 Customized Outrigger Solutions
Customized Outrigger Solutions give you a range of chassis and terrain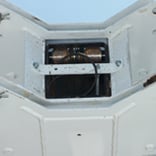 Friction-Free Jib Extension System
Rollers provide a smooth and simple extension operation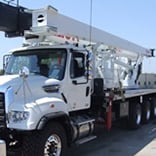 Jib Storage on Either Side of Boom
Elliott machines allow you to stow jibs on either side of the boom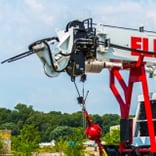 Oversized Boom Tip Jib and Accessory Mounting 'Ears'
Makes work platform and accessory mounting more reliable and secure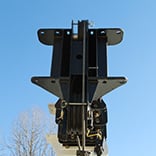 Heavy Duty Boom Tip
Provides additional structural rigidity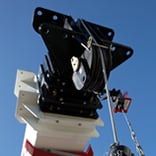 Solid Steel Boom Sheaves
Provide excellent reliability, shape retention and long useful life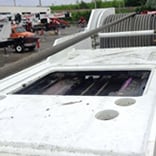 Easy-Access Wear Pad Adjustment and Boom Servicing
Saves service time and allows for easy performance adjustments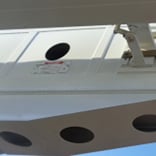 Oversized Grease Port in Main Boom Section
Opening in main boom section make greasing internal boom sections easy and convenient
Color Coded Hydraulic Hoses
High quality steel braided hoses for long life and leak free performance. Color coded to improve serviceability and shorten downtime.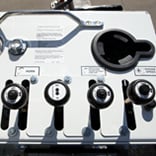 Cupholder and 12V Charger
Keep user amenities improve operator comfort and satisfaction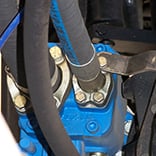 Piston Pump
Robust design Increases flow and pump life
BoomTruck Optional Features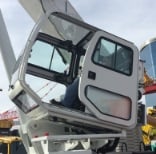 Open Seated or Enclosed Tilting Crane Cab
Choose from open seat or enclosed cab depending on your needs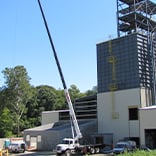 One or Two-Section Telescopic Jibs
Side stows on boom. Capable of lifting loads and handling a personnel work platform.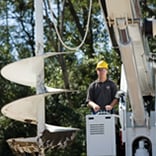 Hydraulic Two-Speed 14,000 or 20,000 ft/lb Auger
Choose the right torque for your operation. Elliott's high pin point geometry gives you outstanding power out of the hole to allow for the widest digging radius in the industry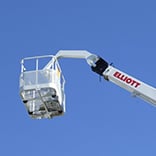 40" x 60" Rotating Work Platform
Lift up to 600 lb of workers and tools on the main boom or jib tip. Includes manual rotation.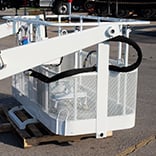 34" x 72" Detachable Yoke Work Platform
Rugged platform has a built-in hand pump and kickstand to lift the yoke. Includes integral grounding lugs in the top rail.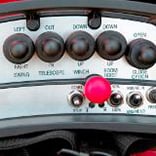 Wireless Radio Remote Controls
Safely and smoothly operate your crane while closer to your work area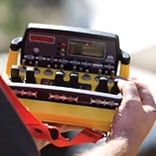 Wireless Radio Remote Controls with LMI Display
Gives you all the data you need to smoothly operate your machine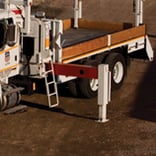 SuperLink 'A' Frame Shortjack Outriggers
Only Elliott's SuperLink Outriggers allow shortjacking with a set of "A" Frame Outriggers to work in tight situations
'EZ Crib' Outriggers
Two stage vertical outriggers that provide extra penetration for reduced cribbing on the job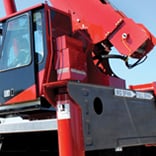 Winch Drum Rotation Indicator
Provides operator with tactile winch feedback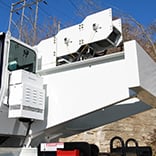 Dual Winch Package with Rooster Sheave
Improves productivity in specialized lifting applications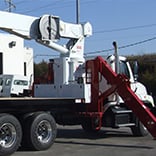 Hydraulic Hose Reel
Power your hydraulic tools and accessories by tapping into the crane hydraulics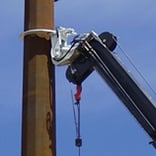 Hydraulic Pole Claw Mounted on Boom Tip
Lets you safely and precisely handle utility and light poles
Hydraulic Clam Shell Bucket
Hydraulically actuated clamshell bucket attached to the loadline for picking up and placing aggregate and other materials.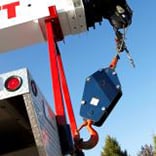 Up to 8 Part Line Block
Hook blocks for up to 8 parts of line, depending on the crane model and capacity.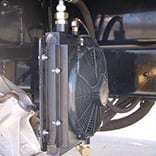 Hydraulic Oil Cooler
Keep oil cool in extreme hot weather conditions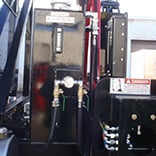 Arctic Fox Oil Heater
Keep oil smoothly flowing in extreme cold weather conditions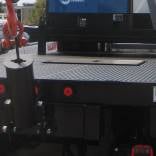 Pole/Pipe Rack
Organize and secure pipe for travel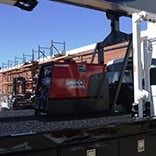 Welder Generator
Utilized for welding activities and 110V power
Track Vehicle Mounting
Elliott is a leader in track vehicle installs. We work with all major track vehicle suppliers and can add the accessories like brush guards and recovery winches to make your carrier even more rugged.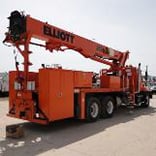 Custom Boxes or Line body
Custom built toolboxes and integrated storage solutions to carry tools and essential equipment on the job.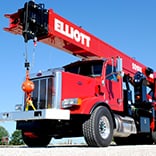 Custom Paint
Your BoomTruck represents your corporate brand and identity. We can paint your unit to your exact color scheme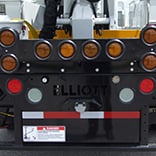 Safety & Emergency Lighting
Available with specialized rail gear to fit your needs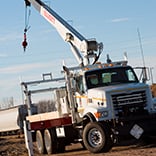 Rail Gear
Available with specialized rail gear to fit your needs