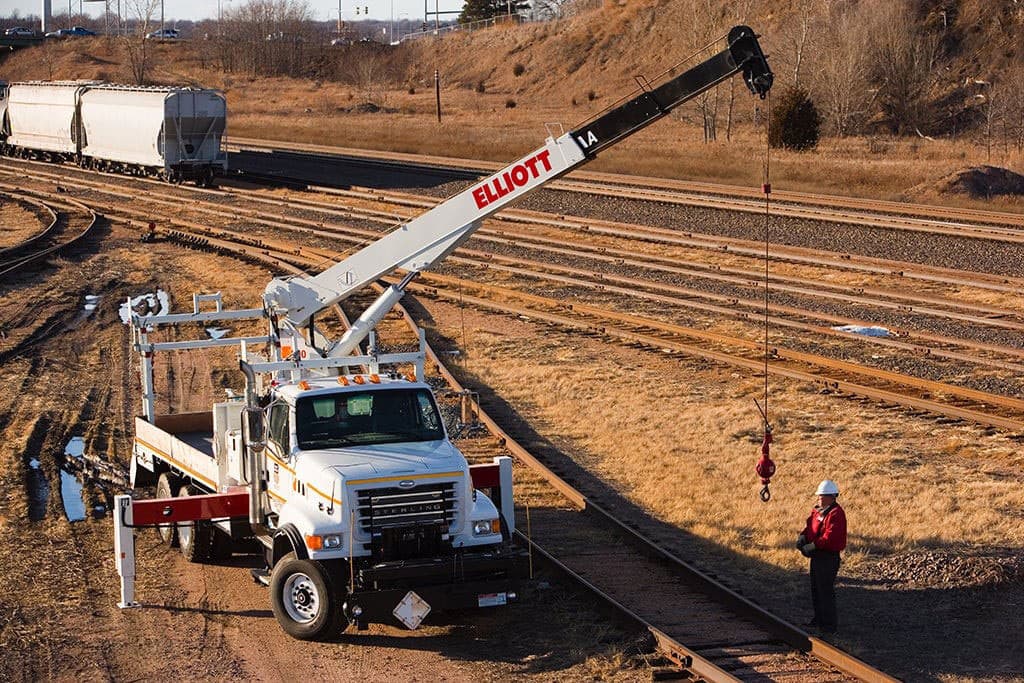 Railgear-Equipped HiReach & Boomtrucks
Wide side reach, point and shoot design, zero tailswing and roomy work platforms are hallmarks of Elliott HiReach aerial work platforms. Combined with available 46kV insulation and material handling in both the platform and on the main boom, one Elliott can do the work of two machines or more. Companies that require lifting and access equipment fitted with rail gear can find a range of customized solutions at Elliott. With a wide range of working heights and crane capacities available, Elliott has the right tool for your job. Our engineers will work closely with you throughout the process to make sure you get just what you need for your application.
From special long-stroke outriggers to custom bed/body designs, Elliott's engineering and design resources can provide a unique set of solutions that will help your business or organization grow.
Plus, with Elliott's Lifetime Structural Warranty and nationwide distributor network, finding a local partner to provide top quality service and support is easier than ever. Contact us today to discuss your specific equipment needs. There's a solution for you at Elliott.
Telescopic Point-and-Shoot Booms with Zero Tailswing
Elliott's telescopic boom design provides maximized productivity by eliminating complex articulated booms and the risk of tailswing when working on busy rail lines. Plus, Elliott's HiReach design allows for the utilization of a winch for material handling for a two-in-one product.
Material Handling
Both the HiReach and BoomTruck products are available with personnel lifting, material handling and digging capabilities thanks to Elliott's custom engineering department. Add a winch and an auger to an Elliott HiReach or a platform and auger to a BoomTruck to maximize your investment and budget.
Custom Application Outriggers for Improved Setup
Elliott offers specialized outriggers that make work easier in difficult applications, like working on a steep rail grade, to ensure that you can operate safely and quickly. We can eliminate the need for outriggers entirely on certain rail products.
46KV Category 'C' Insulation
Elliott's I-Series insulated HiReach models offer 46KV insulation for your safety.
Safety Lighting Systems
Choose from a wide variety of lighting, conspicuity and illumination options that increase visibility on the job.
All Elliott products are built to last with the best components available and are backed by our Lifetime Structural Warranty.
46KV insulated models with out-down outriggers.
Service body options on most models.
Two year warranty on BoomTrucks.
New EZR platform for easier attachment and reduced movement during travel.
New jib winch stows in platform, saving setup time and bed space.
Built to last'
Full-length subframe
Large turret and bearing
Hydraulic boom extension
Smooth controls
Large platform
Hydraulic valving and cylinders
Paint quality / military grade non skid durabull
Elliott will engineer your machine with:
Service body customization.
Custom lighting packages.
Safety systems.
Unique configurations.
Contact Us
Whether you have a question, a comment, or would like someone to call you about an Elliott product or a special application, reach out to us!