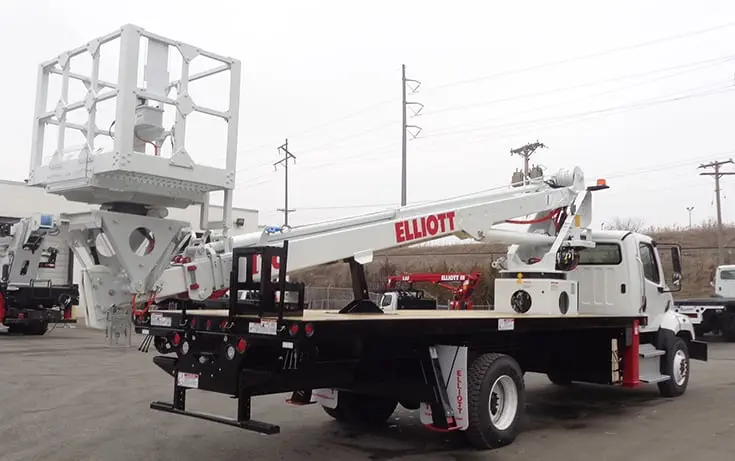 I70F HIREACH (46KV)
Elliott's I70F HiReach offers ANSI Category C (46kV) insulation along with a large two worker fiberglass platform and material handling. This additional space and multifunctionality improves efficiency and allows you do more with a single machine.
KEY BENEFITS
40"x60" fiberglass platform provides twice the work area of a two-worker bucket

Unrestricted side reach with zero tailswing lets you do more work per setup

Material handling on main boom and in work platform maximizes utilization

Office in the Sky platform accessories increase productivity

Heavy-duty structural components provide exceptionally long life and controlled ride

ANSI A92.2 compliance in all modes of operation

Backed by lifetime structural warranty
Elliott Equipment Company specializes in manufacturing long-lasting and reliable personnel lifting and material handling equipment. Every Elliott product can be equipped with a range of accessories to provide a versatile solution for your application. All Elliott products are manufactured in the USA and are available with a wide range of factory customization options. Elliott – Built for You
RECOMMENDED CAB TO AXLE (CA)
Interested in speaking with an Elliott representative about This HiReach aerial work platform?