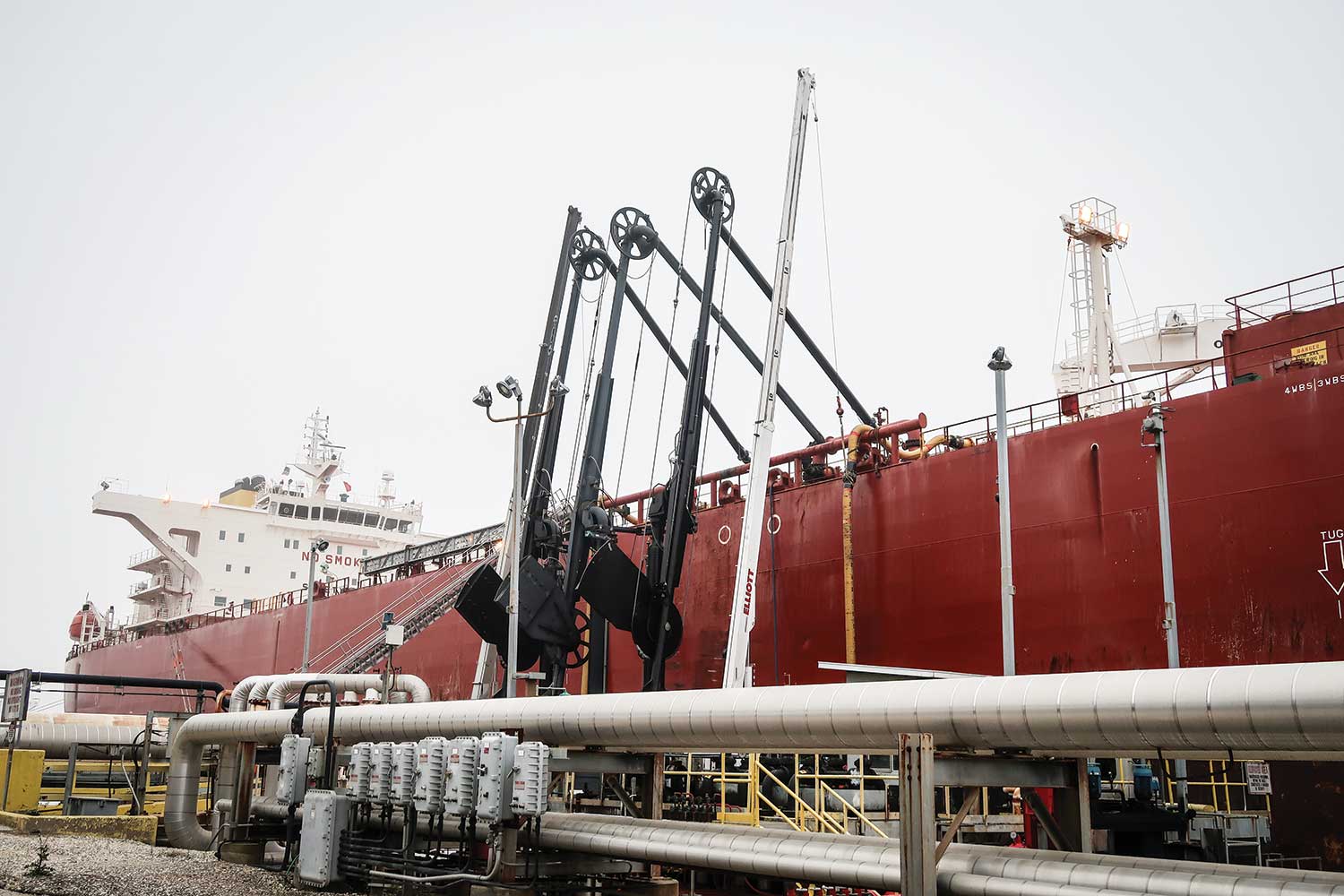 DOCKMASTER MARINE HOSE HANDLING CRANES
When it comes to mission-critical marine applications, you need equipment you can depend on. It needs to be ready to go, easy to use and reliably at your service. At Elliott, we understand. That's why Elliott DockMaster cranes are engineered from the ground up for dependable, easy-to-use operation.
Featuring stainless steel lift cylinders, "Armor Rod" telescopic hydraulic cylinders, stainless steel pins, marine coatings and easy to access wear items, the DockMaster is built for years of reliable service. That's why it is backed by the best warranty in the industry – two years parts and labor comprehensive warranty and ten-year structural warranty. Contact your local Elliott distributor for a solution that's Built For You. 402-592-4500 sales@elliottequip.
GENERAL
10 & 18 Ton Load Capacities
38, 50, 60 & 70 Foot Boom Lengths
Choice of 40 or 75 horsepower explosion-proof motor
Complies with ASME B30.5
INSTALLATION FLEXIBILITY / SMALL FOOTPRINT
Boom and pedestal control console, pump and motor are individual units allowing for optimal placement to fit your dock
Three-section telescopic boom allows for short retracted boom length taking up minimal space
Pedestal engineered for drop-in replacement on most installations
HYDRAULICS
Hydraulic boom extension eliminates maintenance of worm gear, motor and brake
Holding valves on all cylinders
Application-specific designed pump and motor skid mounts external from the pedestal for easy access and greater serviceability. Vertical orientation of these components provides small footprint and gives location flexibility
Large rotation bearing for smooth operation and long life
CORROSION RESISTANCE
Marine prep/paint provides durable weather-resistant coating
Stainless steel and "Armor Rod" hydraulic cylinders maximize corrosion resistance
Stainless steel pins in critical areas
EASE OF OPERATION / SAFETY / CONTROLS
Ergonomic control console mounts separately from crane, giving flexibility in placement, optimizing operator view, minimizing space footprint and eliminating the need for operator to walk around with the boom while rotating
Full hydraulic controls for smooth operation and tactile feedback
Adjustable rotation stop for flexible work positions
Explosion-proof assemblies, wiring and enclosures throughout
EASE OF SERVICE / WINCH
Winch mounted in rear of boom for easy access
9,060 lb single line pull
Rated Capacity Limiter (RCL) system aids operator in staying within working parameters and is simple to maintain
Anti-two-block wiring routed external to boom for easy inspection and simple maintenance
Optional continuous boom rotation
LONG USEFUL LIFE
Wildlife Nesting & Access Protection standard on all models
Warranty – two years parts and labor, ten-year structural warranty