Case StudY:
Hi Light Services LLC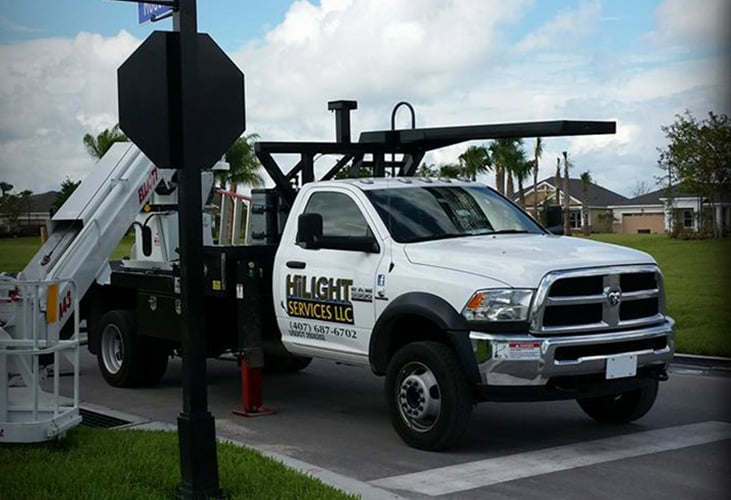 SIGN AND LIGHTING FIRM BOOSTS EFFICIENCY AND DELIVERS RESULTS WITH M43 HIREACH
Aaron Childs, Owner of Hi Light Services LLC, joined the sign industry straight out of high school. Early in his career, he did most of his work using Sponco and Skyhoist sign trucks. Two and a half years ago, he founded Hi Light Services LLC, doing primarily repelling and sign/lighting subcontract work. In early 2017 Hi Light rented an Elliott M43 HiReach from an Elliott distributor with 4,000 miles on it to fulfill an immediate need to service a large fast food chain signage contract. After 9 months of rentals, they added an additional 11,000 miles on the truck, and expect to keep using it in the foreseeable future.
Picking up a New Sign Truck
"The Elliott M43 is pretty much what you need for the sign business."
– Aaron Childs, Owner
Aaron Childs asserts that if you are a small sign company and you want to go out and make a great living, the M43 is the perfect truck. He explained that all other non-CDL sign trucks on the market with a 40' to 50' reach lack the lifting capacity (2,000 lb) of the M43. "I can take a sign guy who has been in the business for 2-3 years," he explains "and he can jump right in the truck without having to worry about a CDL license, health card, or crane license."
In 2017, Hi Light Services landed a big fast food contract in Florida, where they became responsible for setting 32' pole signs. With the M43, they are able to dig the footer, set the pole with the M43 main winch, pour the concrete, lift the sign on top, and install the sign all with one machine. For service and lighting work, Hi Light typically sends out one person in the platform, and for 10' long sign faces, they put two people in the platform.
On bigger projects, Hi Light uses the M43 as well as rented or outsourced Elliott L60 or G85 HiReach models to lift big poles. The M43 can get under the sign to weld and do assembly work while the larger truck suspends the load, helping to eliminate the need to use an extension ladder, allowing for quicker job completion.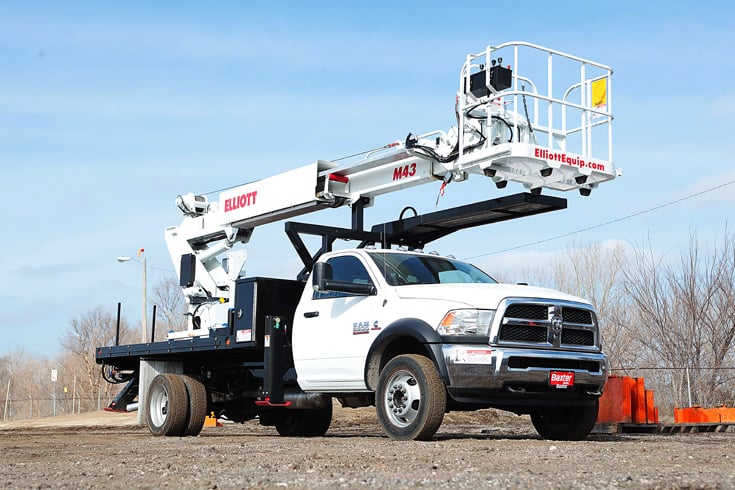 ADVANTAGES
One of Aaron's favorite aspects of the M43 is its size. Because they do a lot of lighting jobs for malls and car lots, being able to get in and around parked cars is a huge plus. With the M43's telescopic non-articulating straight boom, the operator can work over the top of parked cars to do a retrofit or change a fixture. The problem with 'knuckle' articulated booms made by other bucket truck manufacturers, according to Childs, is that "you have to get pretty darn close to the pole because it doesn't have much side reach."
Hi Light uses various accessories offered with the M43. They use the 2,000 lb winch, work platform welding leads, and 110V connection primarily for aerial installation and service work. Childs tells us that "the machine's extendable sign forks are great for holding sign faces, and you can pop them out and slide the sign face right on there for up to 10' faces" and asserts that with the jib winch, he can set big sign faces by himself.
To keep operators safe, the M43 HiReach incorporates a simple winch safety system that prevents lifting loads or booming up/out when the 2,000 lb maximum capacity is exceeded. The machine also has outrigger interlocks that prevent the boom from raising out of stow until the outriggers are fully deployed. According to Childs, "As a business owner, I have the ability to send an operator out on the Elliott M43 and sleep at night knowing that even if he tries to cut corners, he won't be able to due to the safety systems on the machine."
SUMMARY
If you ask any National Sign company, says Childs "they would say their biggest challenge is 'making the schedule' because subcontractor sign companies say 'I have a truck down', 'I blew a hydraulic line', or my 'tranny went out'. Always excuses, and it's not weather, it's a truck down. That's one of the reasons we got a new truck, even given the small size of our company. We could have bought a $20,000 truck and had no debt, but it's not worth it to take a chance of having a truck broken down and losing the business. We did work out at Disney and they don't want old trucks on their property, they make sure you have a nice piece of equipment before you show up on the job site. If you show up with nice equipment you'll get more new business, and repeat business."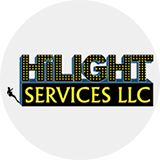 "As a business owner, I have the ability to send an operator out on the Elliott M43 and sleep at night knowing that even if he tries to cut corners, he won't be able to due to the safety systems on the machine."
Aaron Childs
Owner, Hi Light Services, LLC