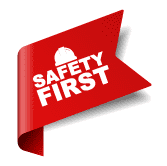 June is National Safety Month, which Elliott recognizes each year. At Elliott, we believe that safety is the responsibility of each and every person. In fact, safety is one of our core values, as "it is essential in the workplace and the solutions we provide." We lived this value once again this year, and were named by the National Safety Council as one of the Safest Companies in Nebraska.
We want every person using our products to go home every day without a safety incident. Shortcuts that compromise safety should never be taken, and accidents can and will be prevented with proper planning.
We encourage you to review your safety protocols with your team and to follow all applicable ANSI and ASME standards, OSHA regulations, and manufacturer recommendations to ensure your crew, equipment, and work site are safe.
Safety planning also includes equipment maintenance, routine inspections, proper training, and developing and executing work plans for each job. By following these processes and procedures, you will not only work safer, but also enhance customer and employee satisfaction.
We wish you all a productive and safe month! To learn more about National Safety Month, visit nsc.org.