You've had your current Elliott Equipment Company sign truck for a long time. It's been a faithful workhorse and has done its job helping you work safely and efficiently in the sign & lighting industry. It shows up for work daily and stays on the job until the day is done. Is now the time to turn it in?
It may be.
There are a number of factors to consider as your machine ages that can make for an easier decision making process.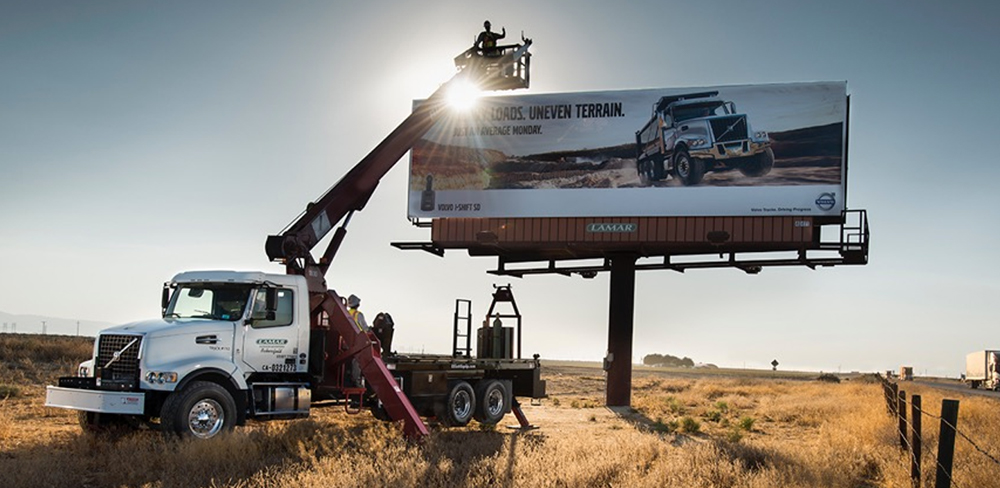 How old is your used sign truck?
A typical time to consider replacing your use sign truck is after five to eight years or 50,000 to 80,000 miles. It is at this point that your machine will have its maximum resale value. Also consider that as time and miles wear on, there's a higher risk of unexpected problems popping up that require emergency repairs. Don't wait too long. Leave yourself options to move ahead.
Have your repair bills gone up?
As equipment ages, repairs become more frequent and maintenance more costly. It's a double burden of money and time, and you can count on Murphy's Law to make sure your used sign truck breaks down when you need it the most. If it goes down in the middle of a tight deadline, your crews will sit idle while your customer fumes. Those idle hours plus the big repair bill can add up to quite a big unplanned expense.
Has your business changed at all in the past few years?
You may be at a point where you have outgrown your used sign truck or need to reach a little higher or lift a little more. A new machine will help you do this work and grow your business by allowing you to take on jobs that you had been previously unable to accept due to equipment limitations.
Read this case study to learn how a national sign and lighting firm cut costs and improved job site efficiency with a new Elliott sign truck.
Are your operators happy at the end of the day?
Operating a used sign truck can be tiring. Factors like the condition of seats and working areas, air conditioning, steering and braking can become more taxing over time. Likewise, the settings of the aerial or crane may need adjusting over time to tailor them to your operators' preferences. If you start seeing scowls instead of smiles at the end of a shift, it may be time to dig a little deeper. Nothing will put a smile on your team's face like a well-maintained used or new sign truck. Plus, it can help you attract better workers and make them more productive on the job.
Is your used sign truck looking tired?
Your equipment is like a rolling billboard advertising your firm. Potential customers can see it every day. Put your best foot forward with a fresh and clean machine that will attract a different set of customers instead of relying on a used sign truck that is beat up and faded.
Has your rig gotten fat?
Think about the last time you moved. It was hard to believe all the stuff you accumulated over the years. Your work truck is no different. Generally, a new model will weigh less than a used sign truck. When you combine that with leaving out all the stuff you hadn't realized had accumulated on your old rig, the weight savings can be substantial. Also, rethink and customize storage on your sign truck to get the most out of the space you have to work with.
Take advantage of new tech
With each passing year, technology on sign trucks continues to improve. Better fuel economy, improved performance and time saving features like a new jib winch or platform can pay real dividends compared to your used sign truck.
New technology helped operators with the Iowa Department of Transportation feel more comfortable at work. Learn more here.
Financing considerations
For some companies the ability to take advantage of accelerated depreciation can be a significant benefit. For others, establishing a steady, predictable payment over several years is the right move. Your accountant can help you with this analysis.
Boost business success
Regardless of what you decide to do with your used sign truck, this is a good exercise to go through on a regular basis. It will help you be proactive in your decision making and increase the chances of business success.
At Elliott Equipment Company, we're committed to your success. That's why we are happy to consult with you to make sure you have all the information you need to conduct an informed analysis. Reach out now to get started, or download our industry brochure to see which Elliott sign truck is the right fit for your business.