L135 - Tight on space - No Problem
Designed for work in New York City and other congested areas, the L135 provides class-leading working height, reach, and maneuverability from mounting on a tandem axle chassis.  The unit is perfect for signs, lighting, and other construction and maintenance applications.  As the L135 is an ANSI A92.2 aerial device and does not require a crane license to operate it is exempt from New York City certification. 
Customization options include a radio remote control so you can get closer to your work and have full control over your machine, various toolbox configurations, bed accessories, and more!
KEY BENEFITS
30"x54" platform easily accommodates two workers and tools

End mount rotating platform with 180-degree rotation to stay focused on your work

Wide side reach with zero tail swing lets you do more work per setup

Material handling on the main boom

Office in the Sky platform accessories increase productivity

Heavy-duty structural components provide exceptionally long life and controlled ride

ANSI A92.2 compliance in all modes of operation

Backed by lifetime structural warranty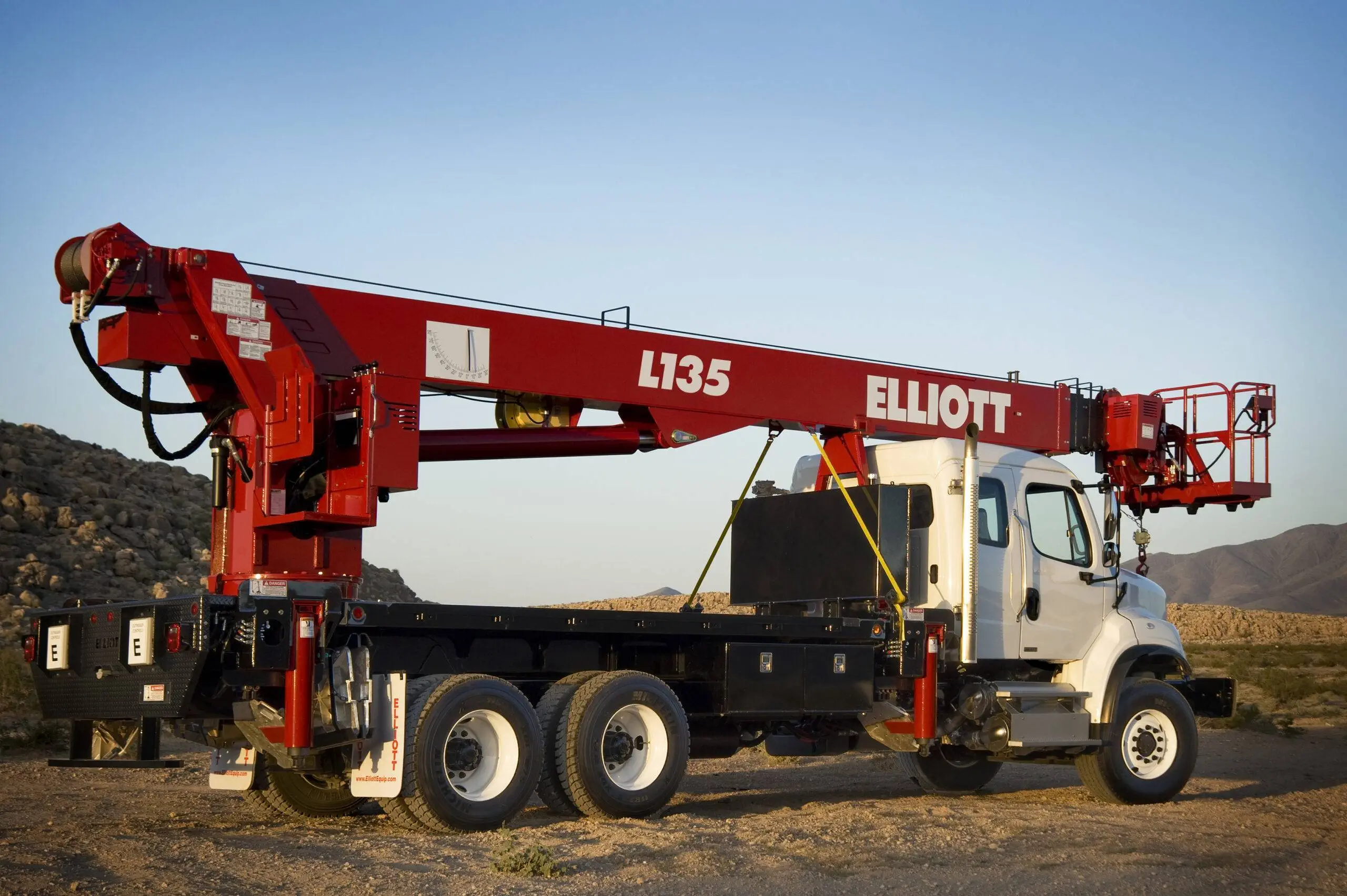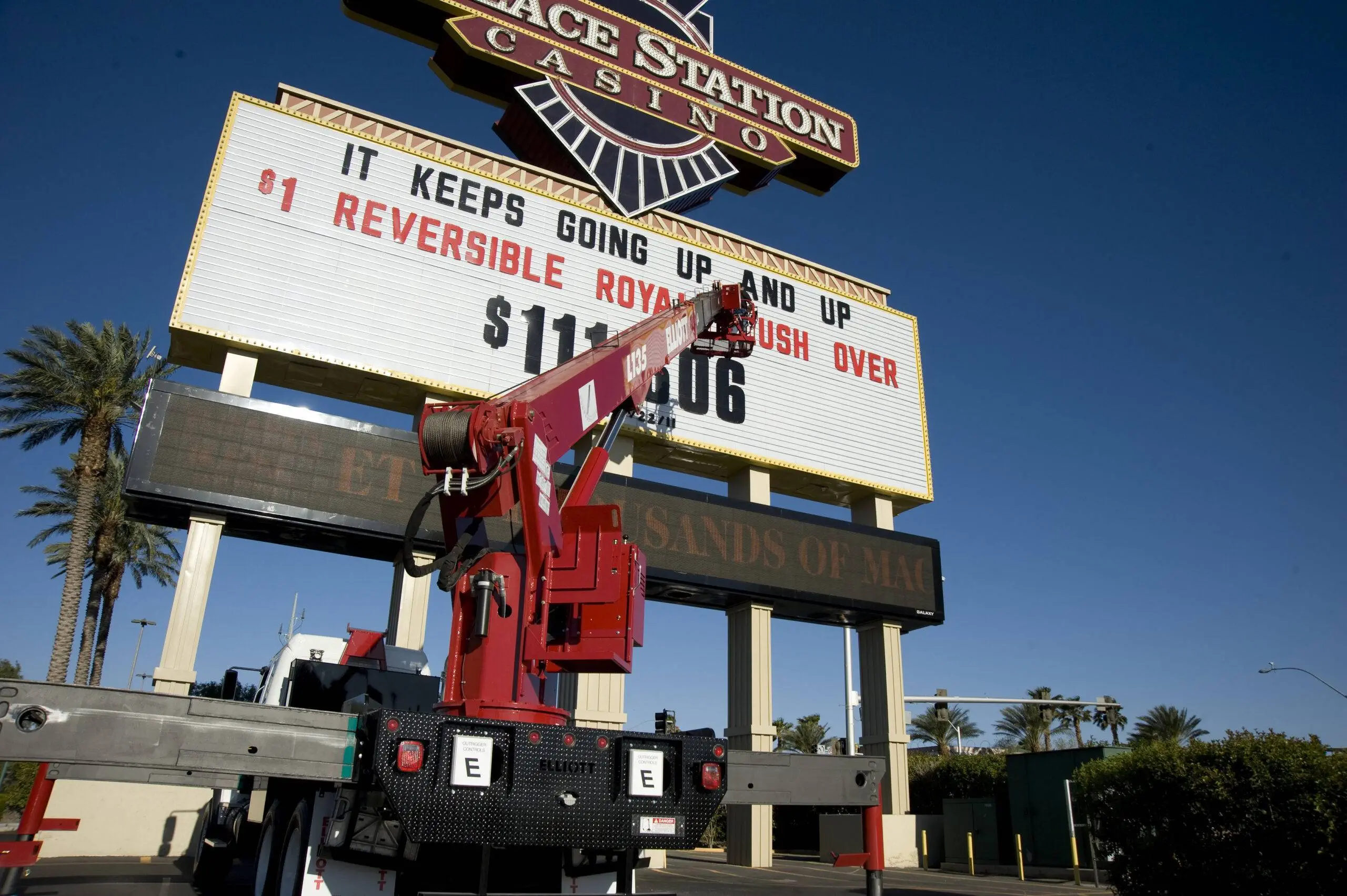 MASSIVE UPGRADE
"Massive facility getting a full remodel. New signs installed by the biggest little sign company in the southeast!
Liberty Sign and Lighting, Linwood, North Carolina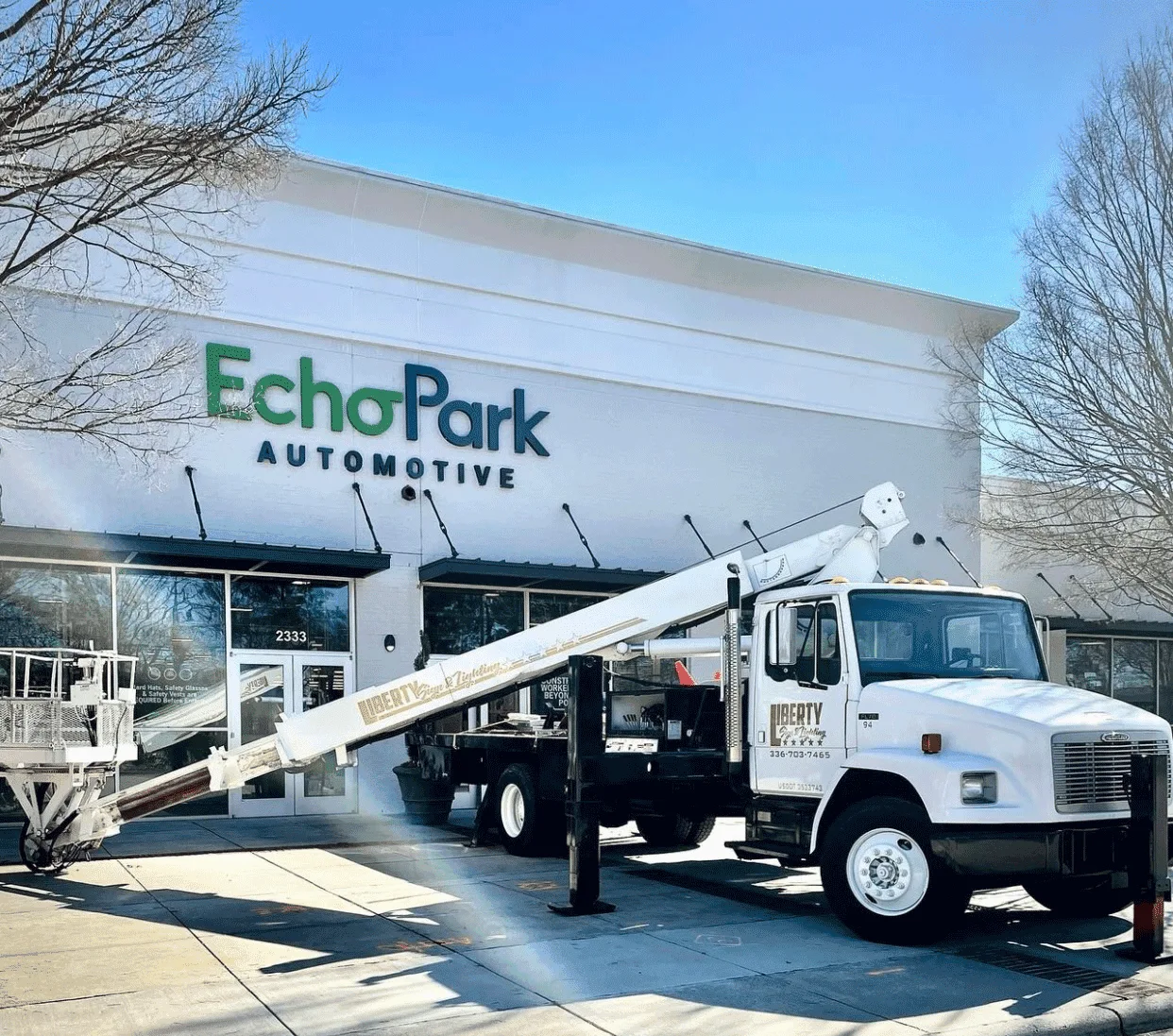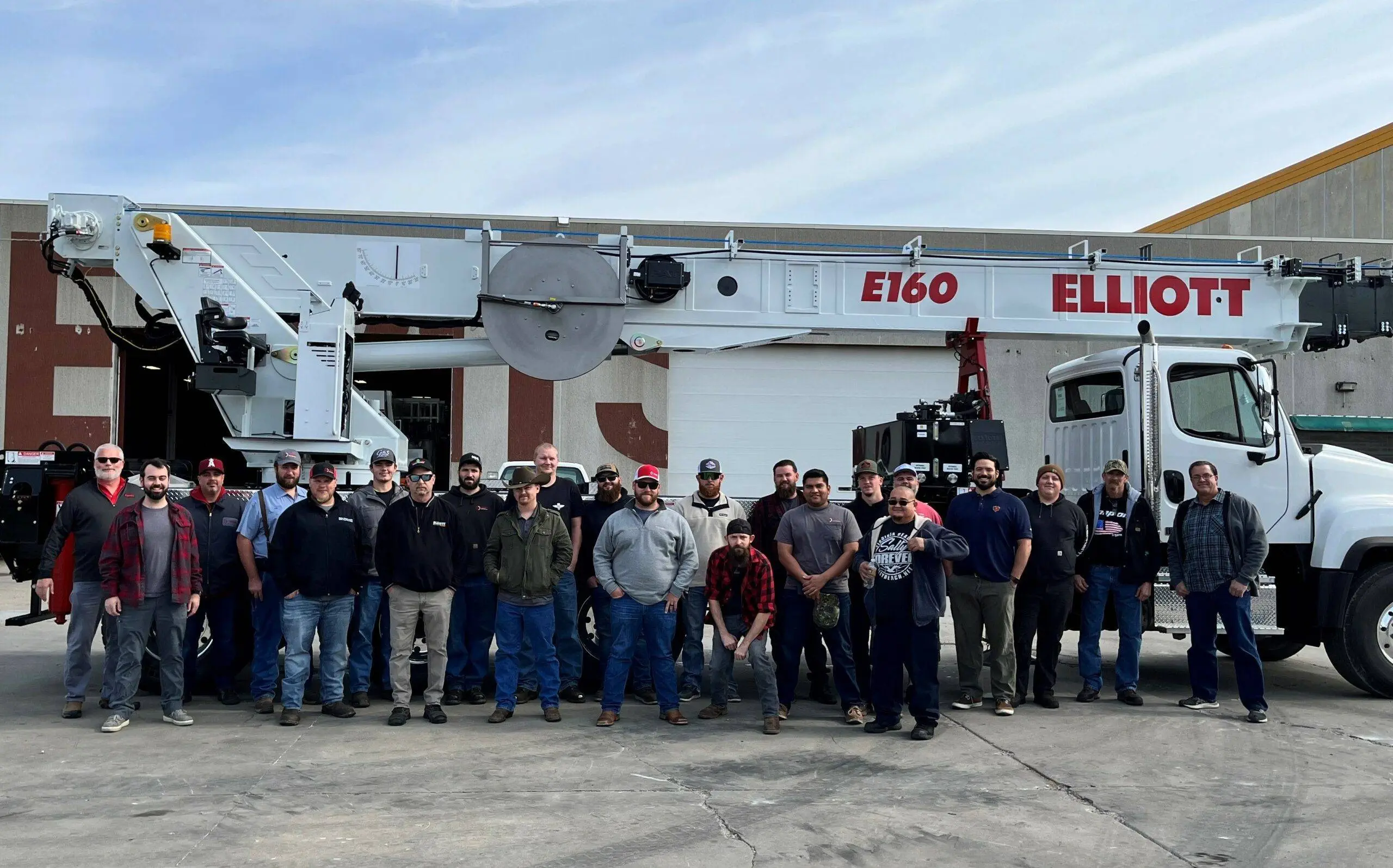 CONTINUOUS LEARNING
18 attendees from across the nation attended the E-Series and Digger Derrick Service School in October. Elliott's After Sales Support Team provided 2 ½ days of extensive training for servicing, maintaining, and troubleshooting Elliott E-Series and Digger Derrick Products.
Keep an eye out for information on our upcoming Elliott Service School coming in the Spring of 2023.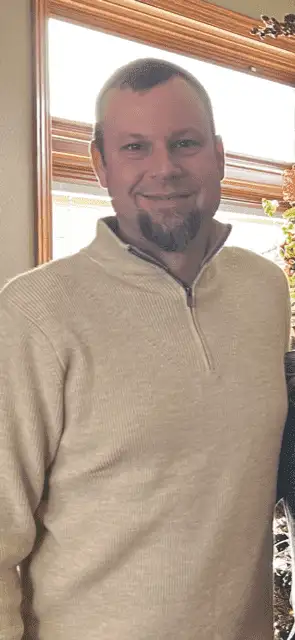 EMPLOYEE PROFILE:
Nick Petrik
What is your Job Title?
Plant Manager
When did you join Elliott?
10-1-2021
What do you like best about working for Elliott?                      The team.
What do you consider your biggest accomplishment at Elliott? Helping set up two new welding departments and getting one of them in operation.
What is your favorite Elliott product and why?          All Track units. Because of the way they look.
What are your personal hobbies?                                Golfing and camping.
What is your all-time favorite movie, band/musician, or TV series? Forrest Gump, and my favorite series is Game of Thrones.
What is your favorite sport and team?            Minnesota Vikings, and of course The Huskers.
Tell us about your family, pet(s), or give a fun fact about yourself!
I have a wife (Brandi) of 16 years and 2 kids, Addison (14) and Auden (7).
DID YOU KNOW?
Benefits of Superior Controls
Elliott's controls are renowned for their smooth, precise operation, inspiring confidence, and delivering enhanced productivity! 
To experience the "DynaSmooth" difference is to experience outstanding control of boom and platform operation, especially when working high and/or wide.  Elliott's ability to adjust engine speed, control range, and maneuverability let you dial in the performance you need to best match your operating conditions.
To maximize sensitivity, Elliott HiReach models incorporate large diameter and high flow hydraulics to give speed when it's needed and allow gentle movements when it isn't.  The hydraulics, combined with Elliott's superior structural construction is one of the things that set Elliott apart from the rest.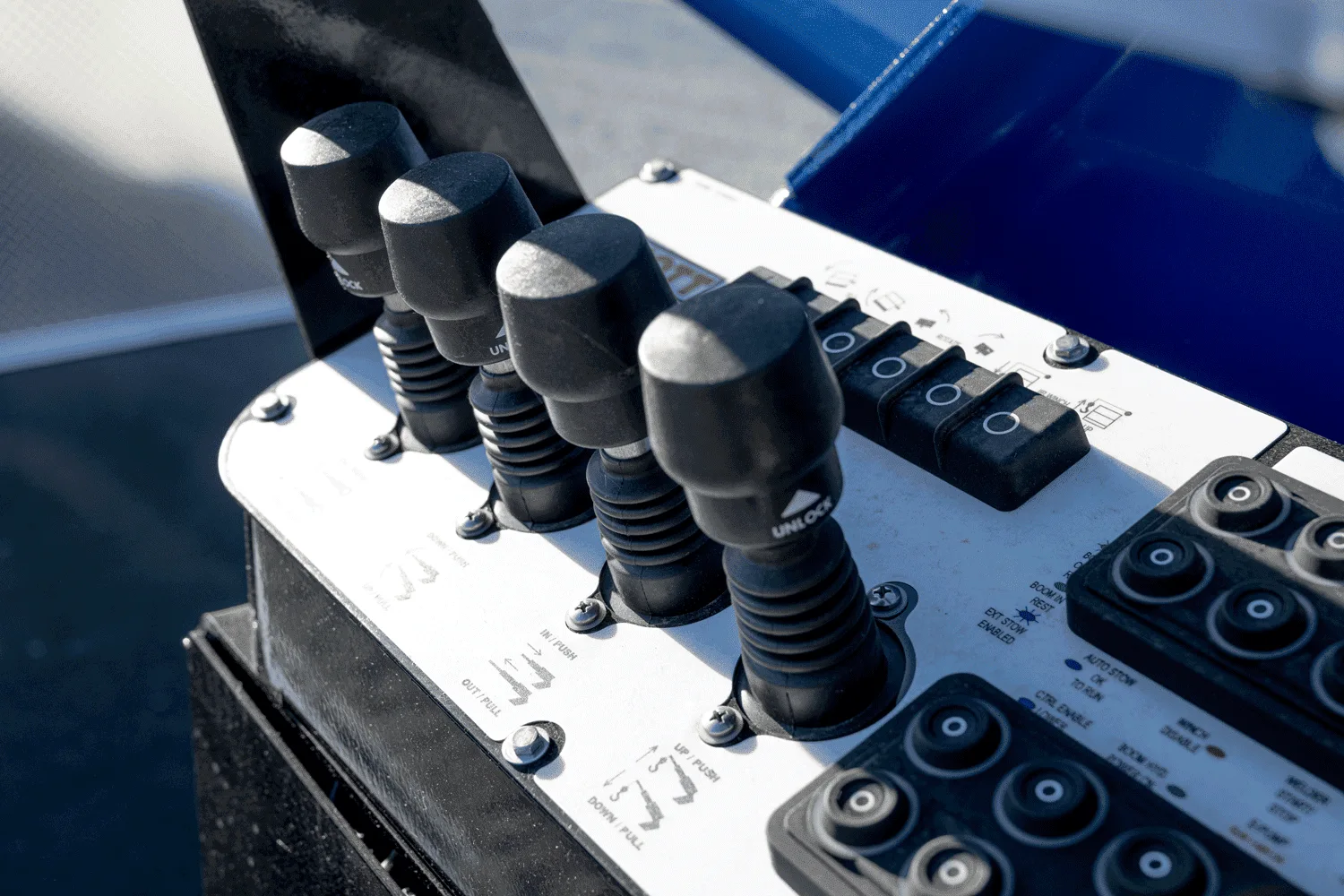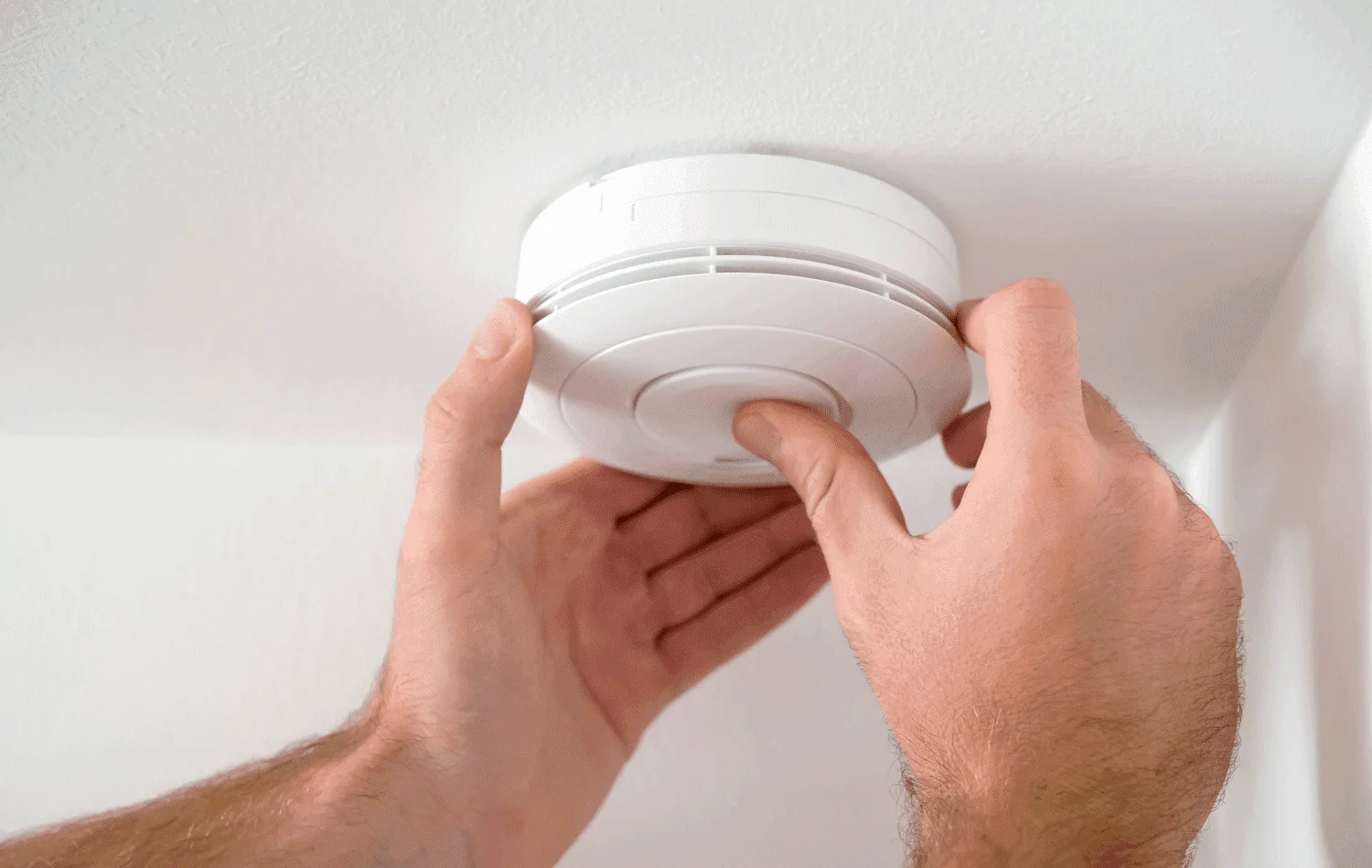 CARBON MONOXIDE AWARENESS AND POISONING PREVENTION MONTH
Carbon monoxide is called the "silent killer" because of its colorless, odorless, and tasteless nature. It can't be detected by humans without the help of an alarm or detector, which is why it's so important to test CO alarms monthly, at home, and on the job. 
As the weather gets colder and more alternative heating sources are used to provide warmth, now is the time to make sure you are protected in the workplace. According to the Journal of the American Medical Association, CO poisoning is the number one cause of accidental poisoning in the United States and is responsible for an average of 450 deaths each year.
CO poisoning is also difficult to diagnose as the symptoms mimic those of many other illnesses, including nausea, headaches, dizziness, weakness, chest pain, and vomiting. If you suspect CO poisoning, move the victim to fresh air immediately and call 911. If the victim has stopped breathing, administer CPR.
Click here to access an OSHA worksheet you can share with your team.

STOCK UP ON NEW ELLIOTT APPAREL, GEAR, and GIFTS
Elliott Equipment Company is excited to unveil our new online store at elliottbrandstore.com! Show off your Elliott pride and stock up on apparel, work and travel accessories, drinkware, tools, gifts, and more. With the holiday season right around the corner, there's never been a better time to impress the machine lovers in your life.