FEATURED PRODUCT:
E160
Elliott's E-Line extra-long aerial work platforms are the ideal choice for the most demanding jobs. E-Line is perfect for utility transmission, wind and other applications requiring long reach, material handling and robust construction.
All Elliott E-Line aerials are purpose-built, designed and tested in accordance with the ANSI A92.2 standard for vehicle-mounted elevating and rotating aerial devices. In fact, they meet this standard in both aerial and material handling modes. They are NOT 'dual-rated' cranes with an optional aerial mode. That gives operators the peace of mind that they are using the right tool for the job when reaching heights up to 240 feet in the air.
An operator's time is critical. That's why E-Line is designed with input from industry leaders to allow operators to get jobs done more efficiently than ever before.
Elliott's E160 E-Line features a 160' main boom working height and a 215′ working height with optional two-piece jib. The unit features a 36″ x 72″ two-man work platform with a 1,200 lb capacity and EZ Crib outriggers for faster set-ups.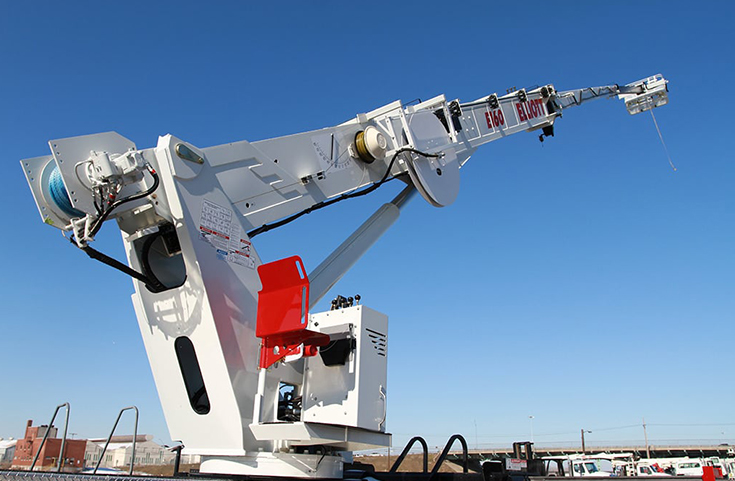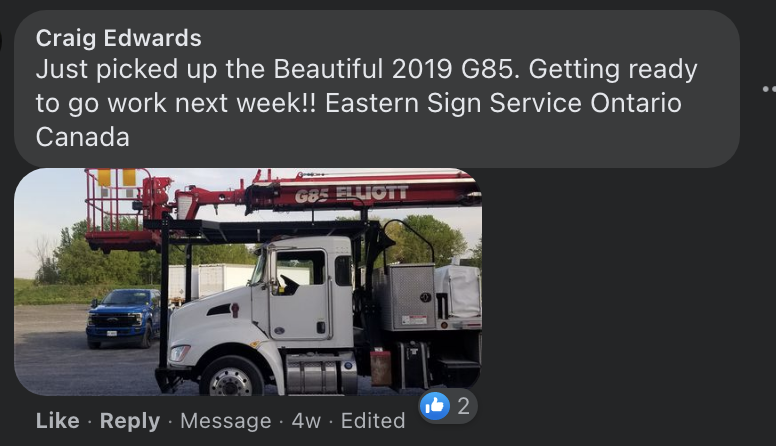 "Just picked up the Beautiful 2019 G85. Getting ready to go to work next week!"
- Craig Edwards, Eastern Sign Service, Ontario, Canada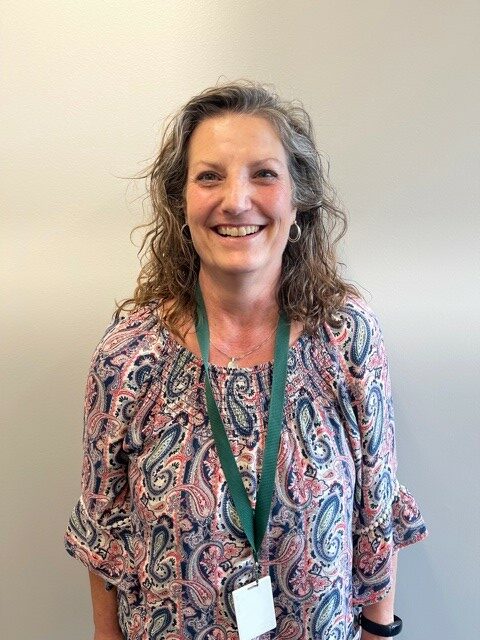 EMPLOYEE PROFILE:
Lynn Steinhauser
What is your Job Title?
Account Payable Specialist
When did you join Elliott?
September 2019
What do you like best about working for Elliott?
The employees.  Everyone I have run into or have worked with are polite and very professional.
What do you consider your biggest accomplishment at Elliott?
Keeping the accounts payables up to date and paying bills in a timely manner.
What is your favorite Elliott product and why?
I think everything we do here at Elliott is interesting.  I like looking at the different models of boom trucks we build.
What are your personal hobbies?
I like to read, go for walks, and spend time with my family.
What is your all-time favorite movie, band/musician, or TV series?                                      NCIS, Gone with the Wind, The Wizard of Oz.
What is your favorite sports team?
College football and baseball.
Tell us about your family, pet(s), or give a fun fact about yourself!
I have one son and one grandchild. Being a grandma is the best feeling in the world!!!
DYNASMOOTH HYDRAULICS KEEP YOU IN CONTROL
Elliott's DynaSmooth remote controls offer a precise feel with excellent sensitivity adjustment. Operators can conveniently adjust engine speed and controller voltage to smoothly feather the controls for a smooth ride, even when rotating the boom at heights over 100 feet. To optimize  operation, Elliott HiReach models incorporate highly engineered hydraulic technology to give speed when it's needed and allow gentle movements when it isn't.
Try them out for yourself to experience the DynaSmooth difference!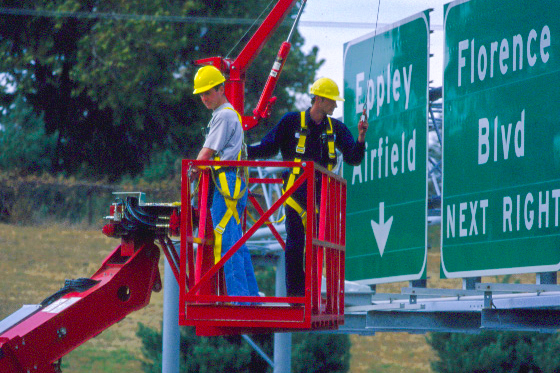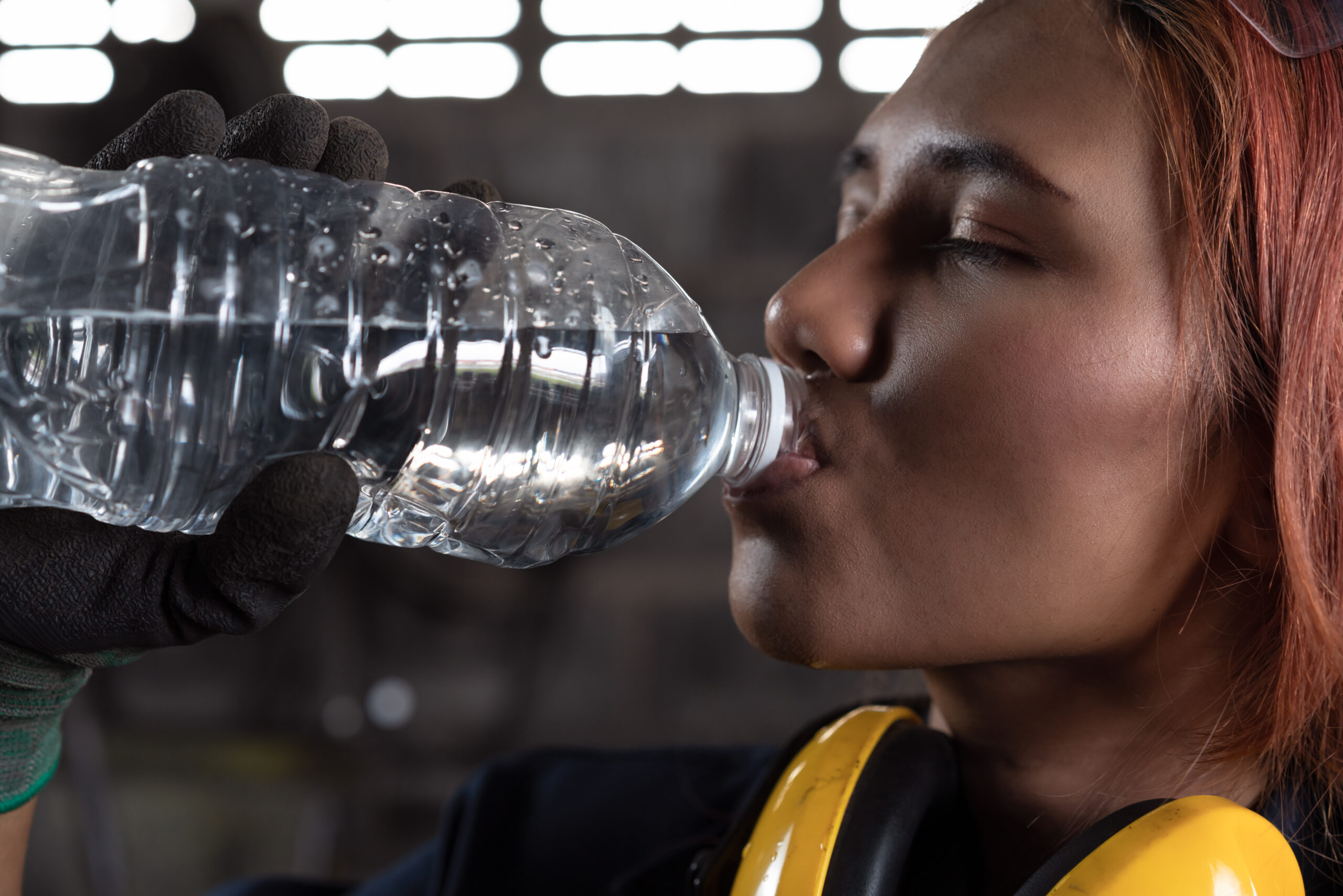 Stay Hydrated in the Heat
Don't forget your water while you work! Dehydration occurs when you use or lose more fluid than you take in, and your body doesn't have enough water and other fluids to carry out its normal functions. Symptoms include fatigue, dizziness, and confusion.
Here are some of OSHA's prevention tips for staying safe in extreme heat: 
Drink plenty of water (the recommendation is two cups before starting work, and then 8oz cup every 20 minutes)

Don't wait until you're really thirsty to drink - dehydration can occur before then!

Cool water works best because it tastes best and you will be inclined to drink more

Sports drinks with electrolytes are another great option, especially when working longer jobs