FEATURED PRODUCT: TILTING CRANE CAB
Our Feature of the Month is the tilting crane cab that goes on all 40142 BoomTrucks and is available on select other models as well.
Users love the enhanced visibility (and easily replaceable polycarbonate glass) as well as the top-notch operator control station (including heated seats, tinted windows, front and top window wipers, AM/FM stereo, AC, and more)!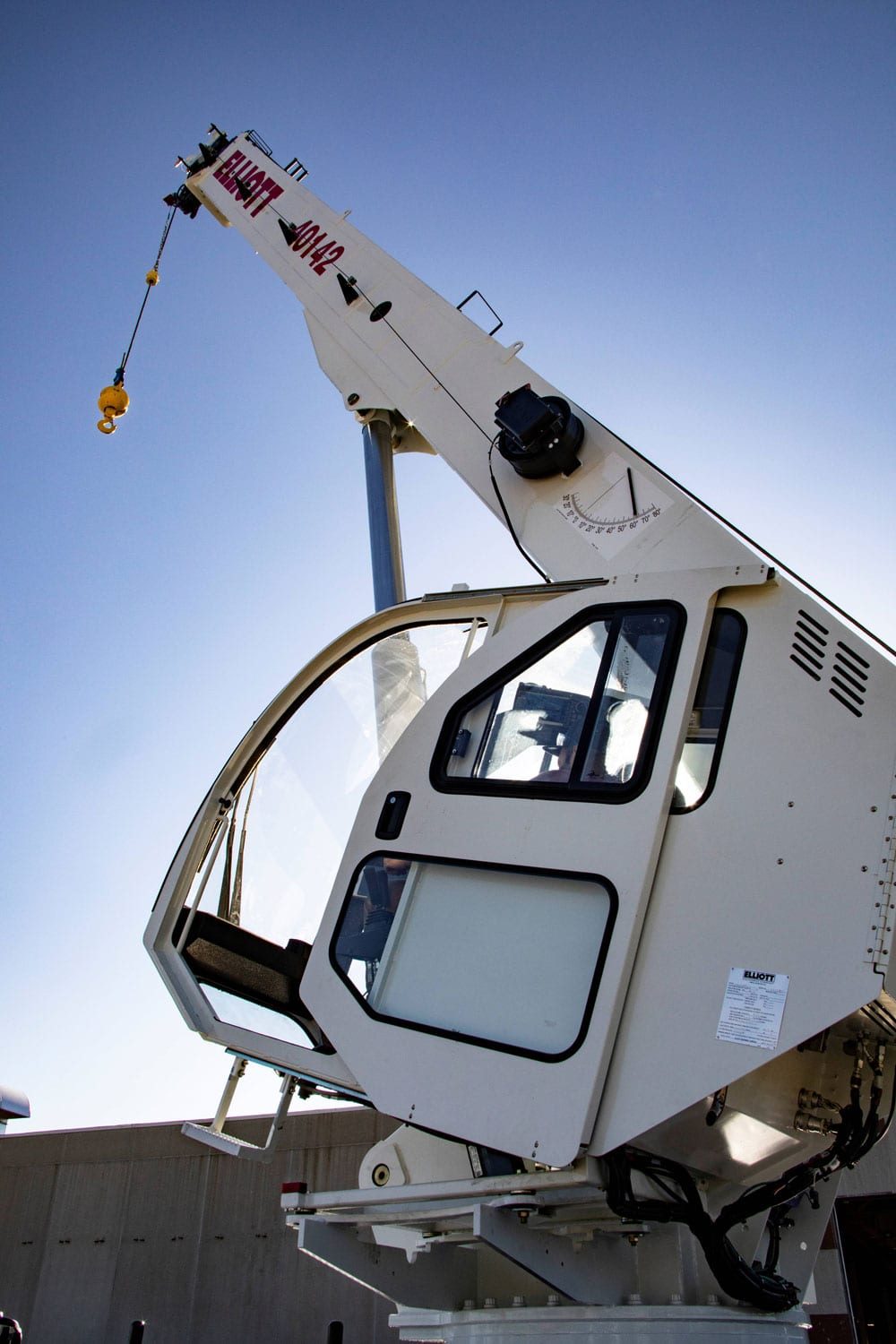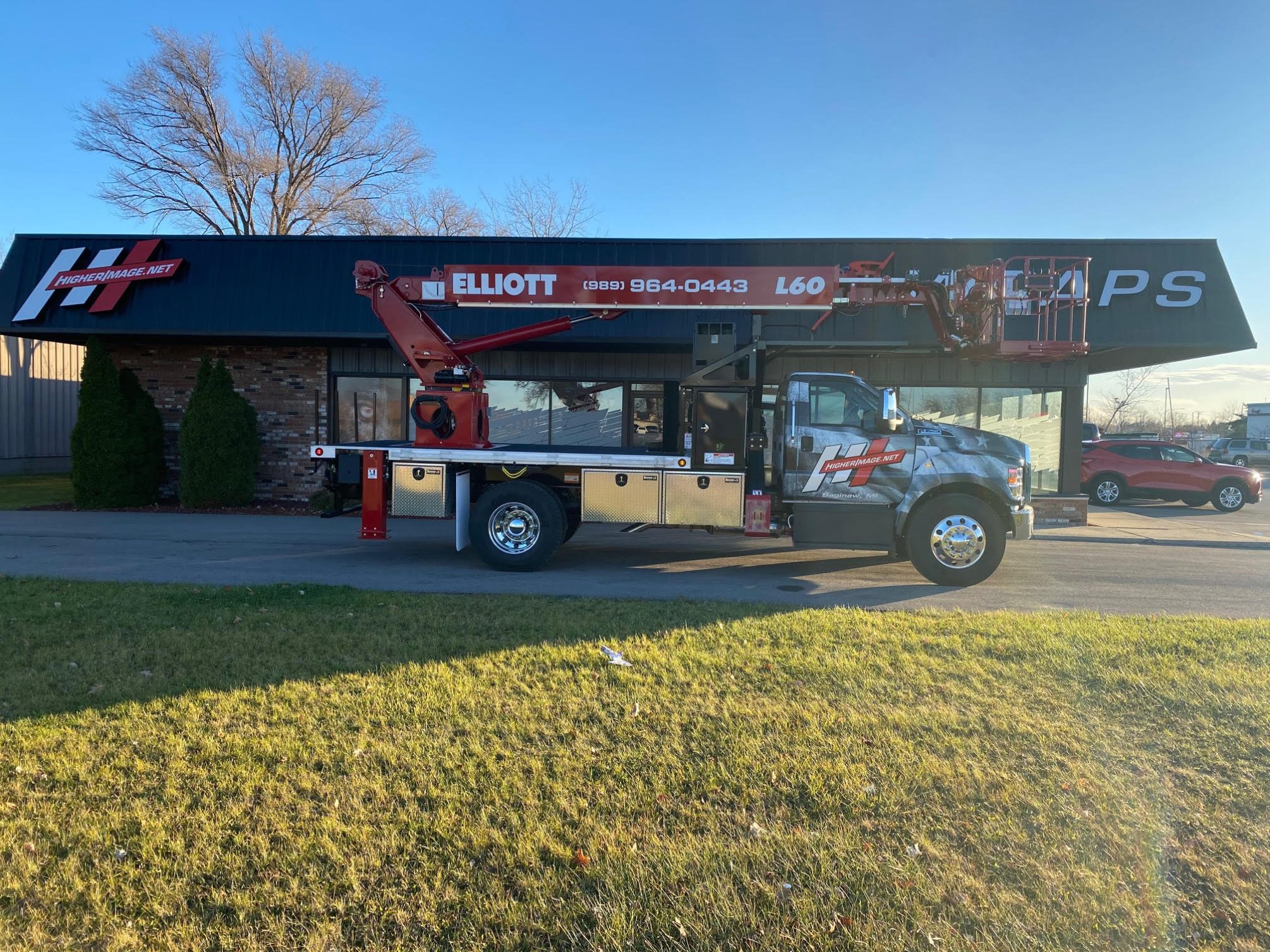 'Built For You' Testimonial
"My guys are loving the new truck for sure. We wrapped the cab in a blacked-out US flag and it looks sweet!"
-Shad Sprague, Higher Image Signs & Wraps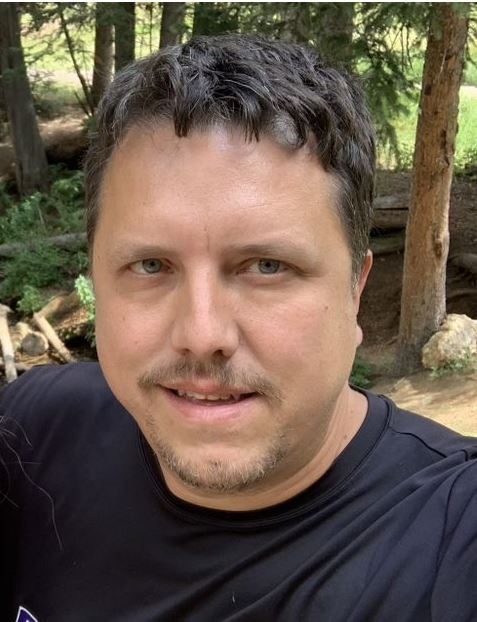 EMPLOYEE PROFILE:
JUSTIN WOLSMANN
What is your Job Title?
EH&S Manager, Mfg. Engineering
When did you join Elliott?
I joined the team in March of 1998. I think Elliott may have adopted me as a teen. Lol
What do you like best about working for Elliott?
It's fun, challenging, and rewarding. Elliott is a great company with great values, but it really comes down to the people. I was 18 years old when I started working at Elliott, and I essentially grew up here. I've had many wonderful mentors that helped shape who I am today.
What do you consider your biggest accomplishment at Elliott?
My biggest accomplishment will ultimately be my role as a leader and mentor, helping others complete their work and achieve their goals safely and without injury. A strong team can accomplish anything, and together we have created a safe and rewarding place to work.
What is your favorite Elliott product and why?
Ok, this may be a little specific but I really like a heavily optioned High Reach mounted on an International chassis equipped with remote power modules. The High Reach product is bulletproof and the DLB chassis interface lets you do a lot of really cool things in terms of advanced logic for PTO control, remote throttle, and aux. lighting accessories, the options are only limited by your imagination.
What are your personal hobbies?
I love helping and supporting youth baseball anyway I can. Our family is probably doing something baseball related at least 4 days a week. I also enjoy early morning mountain biking with my son Donovan in the summertime. One of our favorite trails is Calvin Crest in Fremont, NE.    
What is your all time favorite movie, band/musician, or TV series?
Two of my all time favorite movies are Fight Club and The Greatest Showman. I like all types of music, but a few of my favorite artists are Hans Zimmer, One Republic, and bands like Slipknot and Nine Inch Nails.    
What is your favorite sports team?
Go Huskers and go Angels! You've never watched sports until you've seen Mike Trout hit a baseball.
Tell us about your family, pet(s), or give a fun fact about yourself! Our family is from the Blair area. Katie and I have been blessed with three wonderful boys that bring us so much joy every single day, Donovan 10, Wesley 14, and Steven 11. We also have a very lazy English Bulldog named Boomer.
SAFETY TIP: DAILY INSPECTIONS!
Use the daily inspection criteria in the operators manual as a guide as well as all applicable federal, state, and local inspection requirements. These requirements include, but are not limited to, the following:
Perform a walk-around inspection looking for cracks, corrosion, damaged components, missing bolts or fasteners, etc.

Check visual and audible operator aides for proper operation per the manufacturer's requirements.

Visually inspect fiberglass and insulating components for visible damage and contamination.

Check for missing or illegible operational and instructional markings.

Check hydraulic and pneumatic systems for observable deterioration and excessive leaking.

Check electrical systems for malfunction, dirt, signs of excessive deterioration, and moisture accumulations.

Perform functional tests that include setting up the equipment for operation, including outriggers and stabilizers; cycle each boom function through its complete range of motion from the lower controls, except where operation through the complete range of motion would create a hazard; and check the functionality of emergency controls.
If any problems are found, they need to be addressed before starting work. Any suspected items shall be carefully examined or tested and determination made by a qualified person as to whether they constitute a safety hazard. All unsafe items shall be replaced or repaired before use.