MUNICIPAL SOLUTIONS
We know that government users face a unique set of challenges, including safety and maintenance concerns and time and budget constraints.
Safety: Elliott machines are designed, built & tested to comply with all ANSI, ASME & OSHA regulations, and Elliott engineers actively participate on the committees that develop these standards. Elliott products offer outstanding structural stability and their telescopic 'point and shoot' design is intuitive and minimizes articulated tail-swing in traffic.
Budget: Elliott machines are multifunctional, so one Elliott machine can take the place of two or more machines in the fleet. Elliott is a Sourcewell supplier and also offers a variety of leases and financing to allow machines to be purchased with little to no upfront cost.
Efficiency: Elliott users rave about the increased productivity and functionality. The ease of setup and ability to have all tools ready and available at height make jobs go quicker and let one crew tackle multiple assignments.
Maintenance: Elliott machines are backed by industry's best warranty, so they stay on the job and not in the shop. Local Elliott distributor service and support takes care of the rest.
With Elliott's more than 70 years of experience and impressive roster of government clientele, you can rest assured you are making the best decision for your agency.
Financing Available
Ask us about our "Built for You" competitive, creative and flexible financing solutions. Whether you want to finance or lease your investment, we have you covered. We have partnered with Beacon Funding to offer low monthly payments and allow you to make the investment in your business over time, as your Elliott equipment increases your net monthly cash flow. 
The Sourcewell Advantage
We have partnered with Sourcewell to offer government agencies a nationally leveraged, competitively bid contract. National contract purchasing provides considerable time and resource savings by streamlining the contracting process.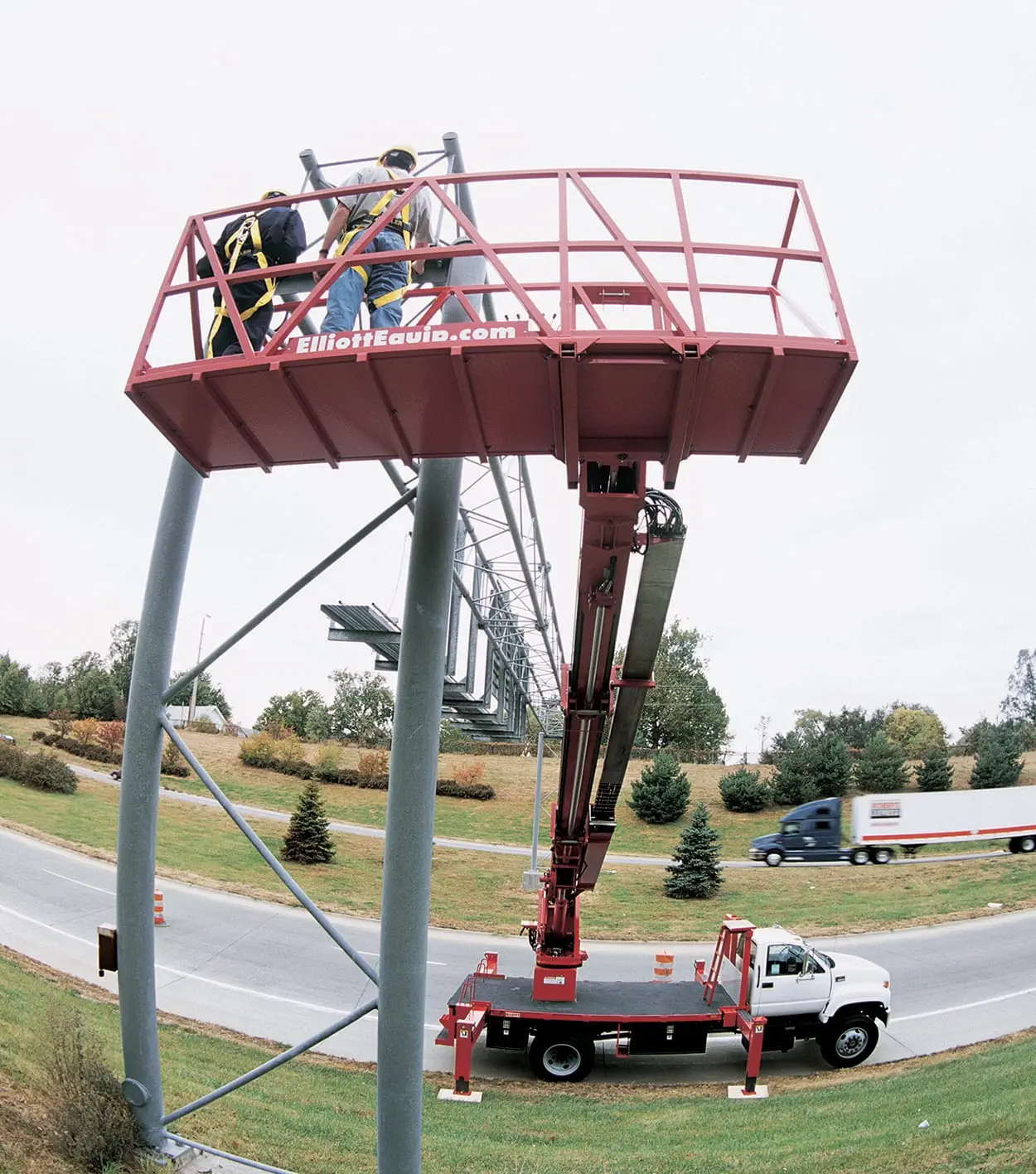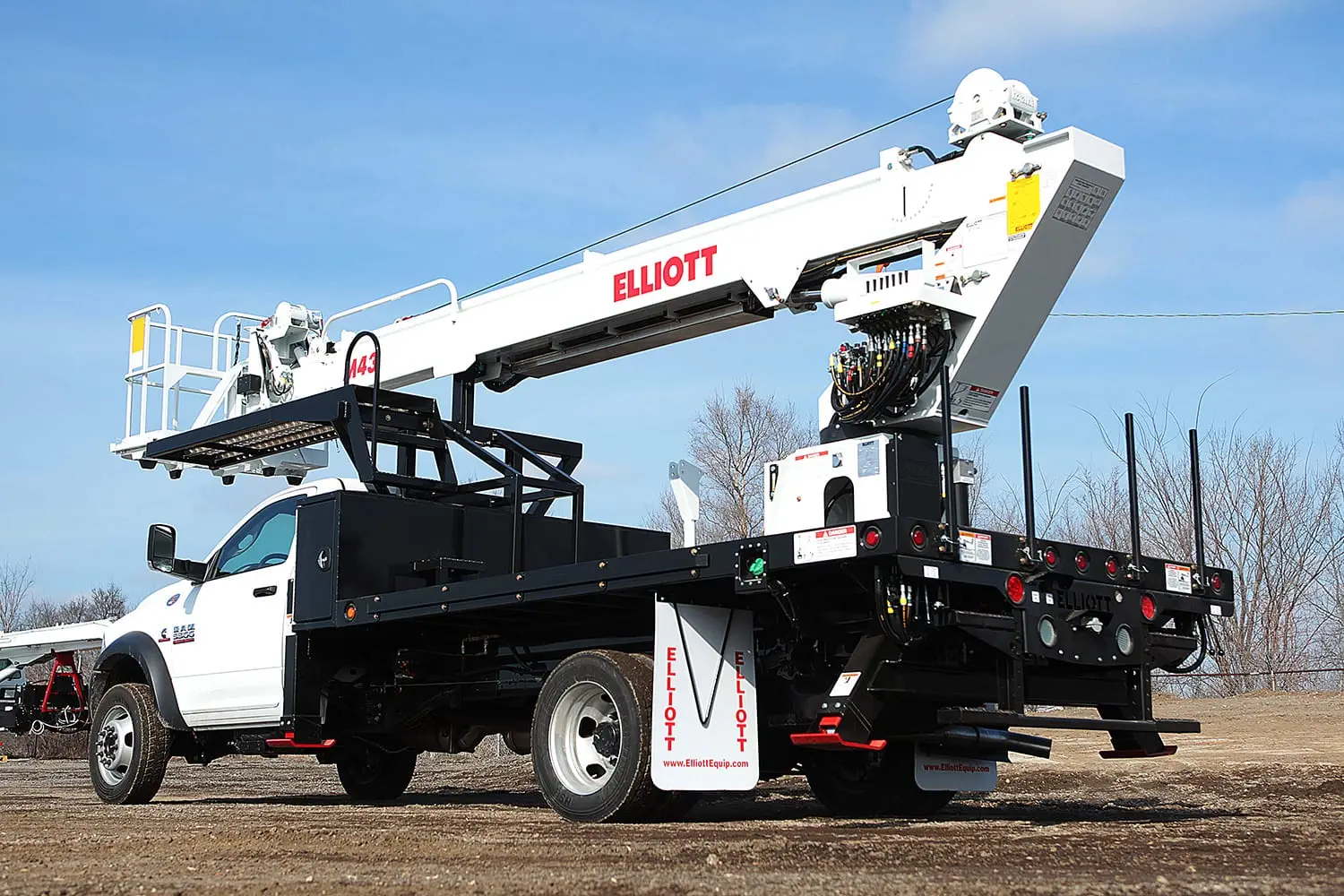 Sourcewell Success Story:
City of Jennings MO Public Works Department
Buyer
City of Jennings MO Public Works Department
Model
M43 43-Foot HiReach Material Handling Aerial Device
Application
Light and camera maintenance.
Why did they choose Elliott?
Elliott distributor Pat Kelly Equipment was able to take a demo out and show its capabilities.
Why did they spec the unit like they did?
They chose the M43R because of the rear mount and side reach. It was within their budget and could achieve all the tasks they needed.
Was there anything special about the sale to note?  
Sourcewell was easy to use, allowing the end-user to get the machine they wanted.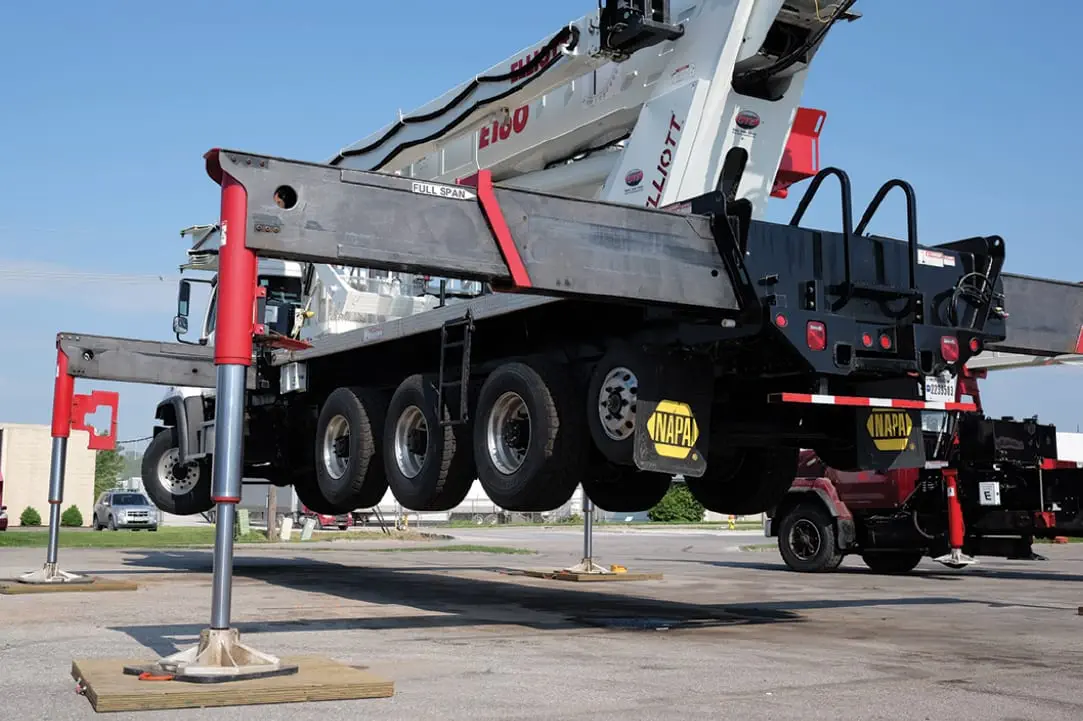 DID YOU KNOW?
Elliott's EZ Crib Outriggers significantly reduce load and unload times, and 30 inches of additional penetration to reduce cribbing makes every job more stable.