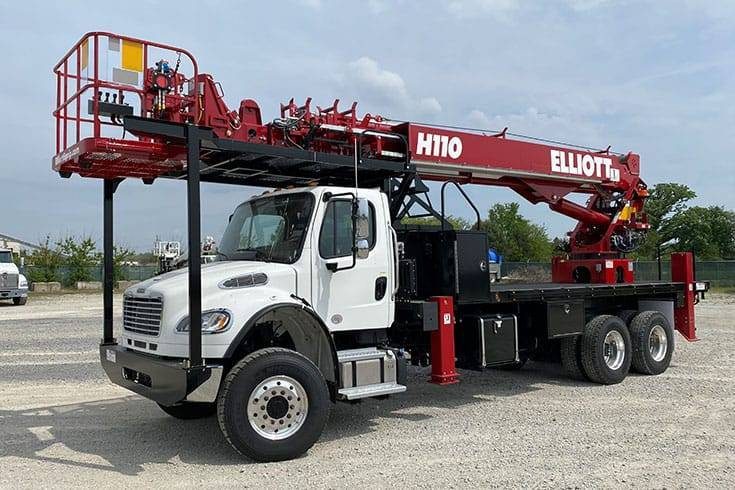 H110R HIREACH #7864
Contact Details
Elliott Distributor: Jack Doheny Company
Sales Contact: Mick Gerber
Phone Number: 800-336-4369 x1505
Email Address: MickGerber@DohenyCompany.com
Truck Details
One new Elliott HiReach H110R having a 115′ working height. Basic unit includes base assembly supporting rear mount rotating turret, hydraulically powered continuous rotation mechanism, frame mounted oil reservoir, oil, manual hydraulic controls mounted on turret. Electronic proportional three stick remote controls on platform. Base mounted "H3" type three section hydraulically telescoping, individually controlled main outriggers. "MH" type secondary outriggers. High strength steel five section hydraulically telescoping boom with (1) 9″ single acting lift cylinder, plus (1) 3″ piggyback and (2) 3-1/2″ extension cylinders. Two cable carriers to boom tip with covers. Hydraulically rotating and self- leveling 40″ x 60″ EZR end hung work platform with remote leveling from platform and aluminum floor. Remote start/stop at upper and lower controls, 12-volt emergency pump with switch at upper and lower controls, PTO hour meter, backup alarm, fire extinguisher, safety triangle kit, and two body harness and lanyards. LED lights to include all bed marker lights, stop, tail and turn. Installed on chassis, tested and ready to operate. Unit certified to ANSI A92.2 for Vehicle- Mounted Elevating and Rotating Aerial Devices. Platform capacity 50 lbs.
Bed / Bumper Options: 20′ Steel Bed With LED Lights and Grip Deck Coating (For Use With Crossbody Box), Angle Step Rear Bumper with Steps and Grab Handles, Tie Down Rails On Both Sides of Bed (wood/steel)
Lifting Options: 14,000 lb. Planetary 2-Speed Hydraulic Winch With Anti-Two-Block Switch, Horn, 2-Part Hook, Downhaul Ball, 1/2″ Cable, Cable Packer, Load Indication System and Hook Storage Bracket, 500 lb. Platform Mounted Jib With Hydraulic Winch. Jib Stows in Platform
Outrigger Options: Automatic Rotation Lockout - Prevents Boom from Rotating to Side Where "H Style" Outriggers Are Not Fully Extended Horizontally
Platform Accessories: 110 Volt Line to Platform, (2) Sign Forks On Platform, Hydraulic Accessory Lines to Platform With Flow Control
PTO Options: Air Shift PTO for Automatic Transmission
Tool Box Options (Steel): 98″ x 36″ x 24″ Steel Crossbody Box (Requires 2′ Shorter Bed), 36″ x 20″ x 18″ Steel Underbody Mounted
Additional Options: Cab Guard From Back of Cab to Front Bumper (Reg Cab), (2) LED Strobe Lights, (1) Mounted on Each Side of Turret Near Top With Switch in Cab
Welders, Generators, & Air Compressors: Mounting Bracket Above 8′ Crossbody Box for Customer Installed Welder/Generator (Designed for Miller Bobcat 225), Remote Start/Kill Switch in Platform for Customer Installed Welder/Generator, Welder Leads to Platform - (2) 1/0 Cables
Paint Options: HI Reach Unit Painted Red, Subframe Painted Black, Outriggers Painted Red (STD)
Custom Options: Reliable 10-I-SA/D Intensifier (10,000 psi) mounted in platform. Includes valve, gauge, and 4-way valve.
Chassis: 2021 Freightliner M2-106 6×6, 350 hp Cummins L9 diesel engine (1150 lb/ft), 260″ WB, 194″ C.T., 110″ AF, Allison 3000 RDS automatic transmission, 58,000 GVWR, 18,000 lb front axle, 40,000 lb rear axle, 385/65R22.5-20 ply front tires, 11R22.5-14 ply rear tires, air brakes, air dryer, Hor exhaust, Tuftrac rear suspension, Rear differential lock, Engine block heater, 50 gallon aluminum fuel tank (LH), AM/FM radio, cruise control, air conditioning, Air ride driver seat, fixed passenger seat, tinted glass, Color: White. 1-year tow warranty.
RECOMMENDED CAB TO AXLE (CA)