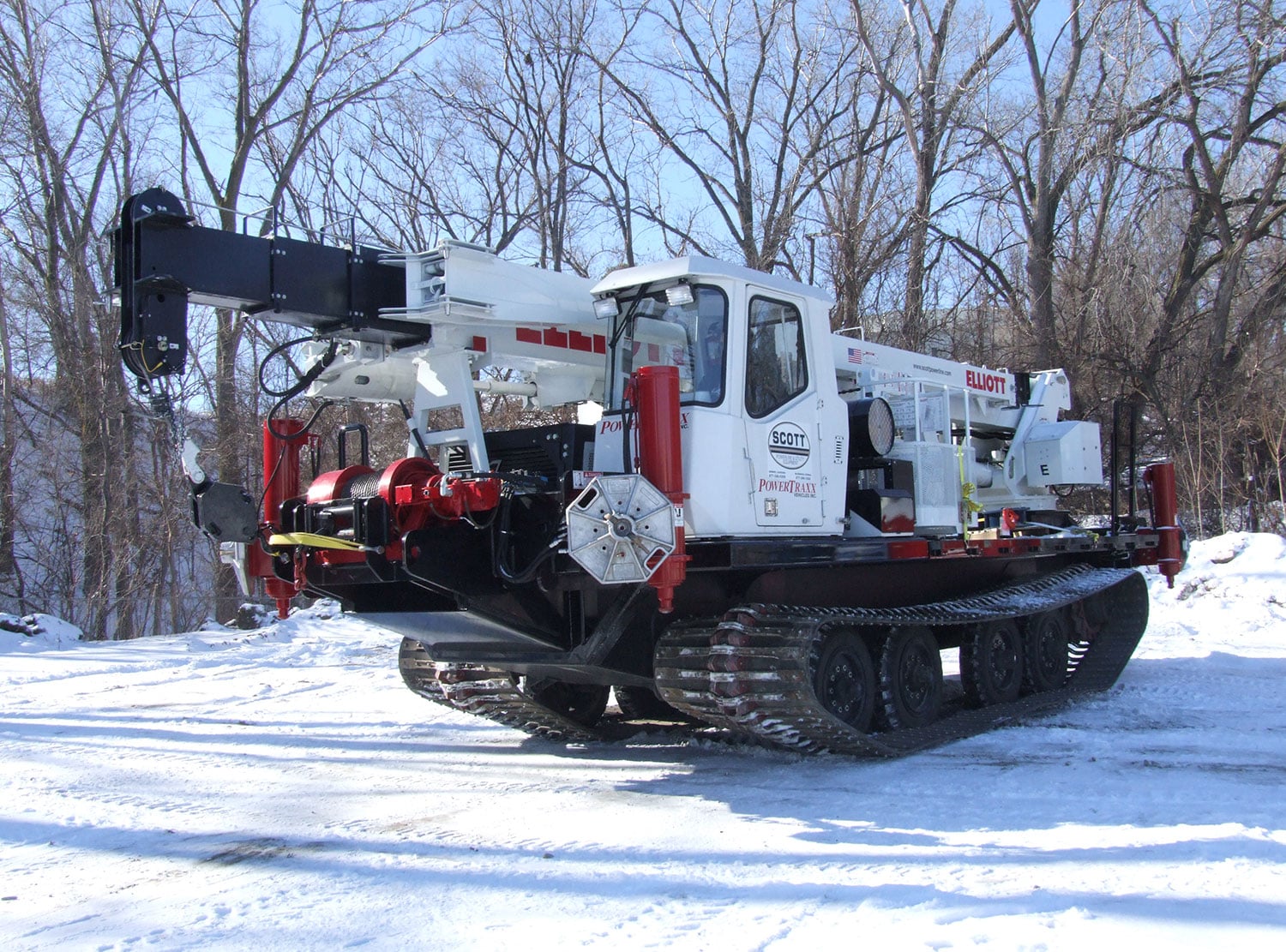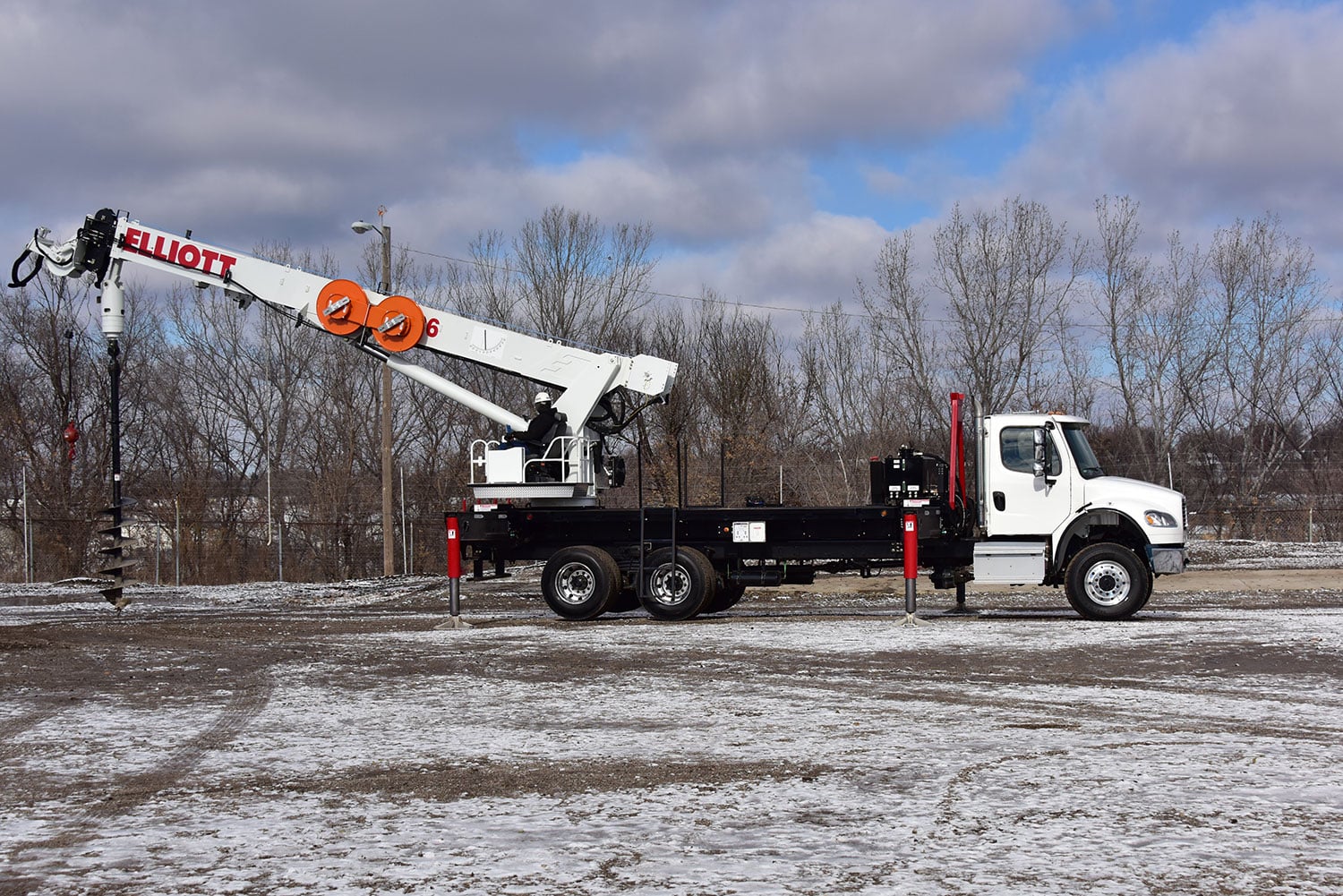 UTILITY HIREACH AERIAL WORK PLATFORMS, DIGGER DERRICKS AND CRANES
Elliott's HiReach truck-mounted aerial work platforms have paved the way to a new class of utility industry products that combine ANSI A92.2-compliant safety and performance with working heights to 240′ and material handling capacities to 15 tons. Perfect for transmission work, HiReach and E-Line products do not require a proof test or test lift, which significantly shortens set up time, and our EZ Crib Outriggers significantly reduce the need for cribbing.
Our D86, D105 and D115 Digger Derricks feature industry leading digging radiuses (42') and lifting capacities of up to 30,000 lbs. at a ten foot radius. With full pressure hydraulic controls and ergonomic control console users enjoy outstanding sight lines and control feel. An available work platform allows these machines to do triple duty. With up to 115 foot tip height on a tandem axle chassis, Elliott's digger derricks are built for you.
Elliott's BoomTruck line ranges from 10 to 50 tons with a wide range of boom lengths up to 207' and features like telescopic jibs, detachable work platforms, wireless remote controls and high-torque digger options to maximize your productivity and performance.
Depending on your needs, we can go even further, with special boom lengths, platform designs, 500kV insulation and more. Contact us today to learn more.
Dynamic Outrigger Setups
Elliott's outrigger designs allow for a range of setups while reducing overall weight and maximizing stability. Elliott's design capabilities allow for job-specific outrigger arrangements that accommodate tight spaces or obstacles including working on highway shoulders, over guardrails, on railways and in off-road applications.
An "Office in the Sky"
Elliott HiReach models feature oversized steel work platforms with more space for personnel and tools on the job site. To assist with getting work done at height, Elliott's oversized cable carrier can carry multiple tools into the work platform to maximize productivity including 110V, welding leads, oxy/acetylene hoses, air hose, pressure washer hose and a hydraulic jib winch.
Dynasmooth Controls
Built for reliability and simplicity, Elliott's Dynasmooth controls come with industry-leading sensitivity features that allow the operator to conveniently adjust engine speed and controller voltage to smoothly feather the controls for a gentle ride, even when rotating the boom at heights over 100 feet. To maximize the sensitivity, Elliott HiReach models incorporate large diameter and high flow hydraulics to give speed when it's needed and allow gentle movements when it isn't.
Factory-installed work lights and safety lighting.
Smooth and dependable hydraulic boom extension.
Oversized two-person work platforms.
Operator-friendly electrical and hydraulic design for a long equipment life and easy serviceability.
The strongest turret to turret box connection in the industry (highest number of bolts and the widest bolt diameters).
Large diameter hydraulic lines for more flow and increased speed during operation.
Fewer proprietary parts than the competition for reduced costs and easier parts availability.
Custom work lights and safety lighting.
Full cab guard to protect truck chassis.
ANSI Category "C" 46 KV insulation
HiReach 5,900- to 14,000-lb boom winch.
BoomTruck wireless remote controls with LMI display.
BoomTruck two-section telescopic jibs with heavy duty attachment ears.
BoomTruck two-man heavy duty work platforms with yoke or rotation mechanism.
Hydraulic digger and pole claw with wireless remotes.
Custom outriggers for shortjacking, guard rail clearance and tight spaces.
Custom paint to match fleet and chassis colors.
Service bodies.
20,000 ft/lb two-speed auger with up to a 36" bit (26 & 30- ton BoomTrucks).
Tandem and tridem chassis configurations.
Trac vehicle configurations.
Interested in Speaking With an Elliott Expert?