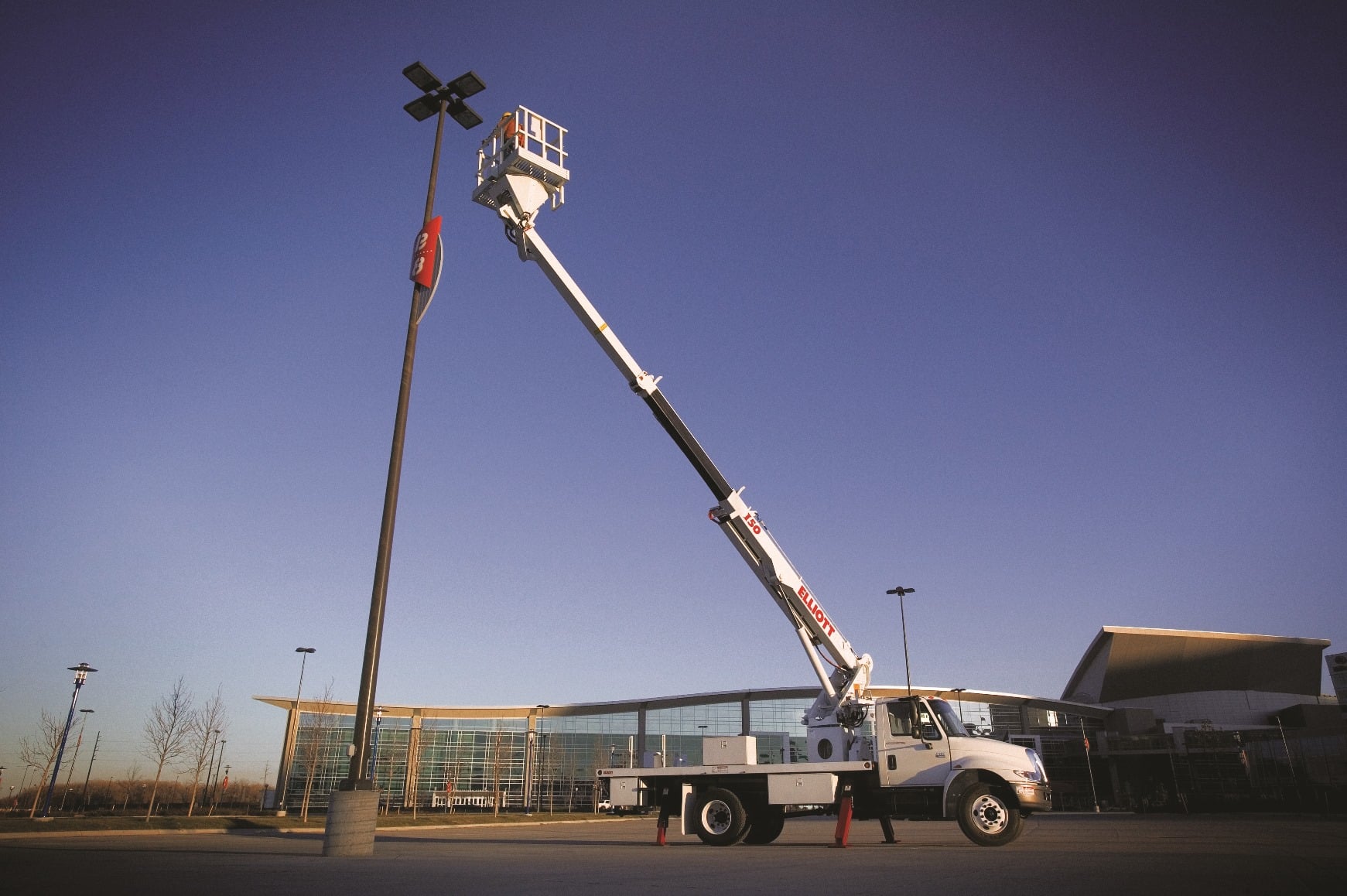 ELECTRICAL CONTRACTING HIREACH & BOOMTRUCKS
ELINE MATERIAL HANDLING AERIALS
When your job requires you to reach 120 feet or more, Elliott's E-Line aerial work platforms are the tool of choice. Featuring working heights from 120 to 240 feet, material handling and available 500kV insulation, the Eline will take you where you need to go. Designed, built, and tested to comply solely with ANSI A92.2, the Eline is a no compromise, purpose-built solution. Standard features like EZ Crib outriggers, integral hydraulic tool circuit and grounding lugs, DynaSmooth controls, and anemometer save time and increase efficiency.
DIGGER DERRICKS
Elliott Digger Derricks are built for your most challenging jobs. Featuring the industry's tallest tip heights, widest digging radii, highest torque and largest lifting capacities, choose Elliott for your most demanding construction and storm work.
BOOMTRUCK CRANES
Elliott offers the most customizable cranes in the industry. We know your work is different and is not always fit with a cookie-cutter solution. We welcome special orders and will work closely with you to ensure you get the machine you need. 
HIREACH MATERIAL HANDLING AERIALS
Elliott's HiReach truck-mounted aerials combine spacious work platforms with a variety of available tools and material handling capabilities do the work of multiple machines, maximizing your fleet utilization.
Maximum Utilization
You and your crews multitask all day. That's how bottlenecks are eliminated. Now more than ever, you need your equipment to be flexible and capable of working in multiple applications.
Elliott understands. That's why every machine we build can perform two or more functions, to increase its utilization and your return on investment.
Reliability
We know your work is demanding. Whether you are on or off-road, working in cold or heat, at any time of the day or night you can count on Elliott to be ready for duty. Designed for your toughest assignments Elliott machines are made with components from leading suppliers in the industry and are engineered to stay on the job, not in the shop.

Increased Productivity
Time is money. That's why Elliott aerials, cranes and digger derricks are built to help you get your job done efficiently. EZ Crib outriggers provide 30" extra vertical penetration, to minimize the time and work of handling cribbing in uneven terrain. Elliott machines are purpose built and certified to their primary intended use. Because we don't 'dual rate', you have the confidence your machine is built fo the task at hand. Your productivity is further enhanced by Elliott's ergonomic design, which give you the tools you need to do your job, right at your fingertips. And Elliott's point and shoot design gets you directly to the work area.
Tools at platform
Wide radius
High lifting capacity
Operator ergonomics
Customizable
We know there are no 'one-size-fits-all' designs when it comes to utility equipment. That's why we'll take the time to listen to you and understand your application. This 'Built For You' collaboration ensures your machine is optimized for its application.
Return on Your Investment
Elliott users benefit from an outstanding return on investment. Low upfront costs, increased utilization and productivity, outstanding uptime and resale value combine to ensure your costs are low and returns are high. Your Elliott investment will reap dividends for years to come.
Perfect for transmission and substation work, Elliott HiReach and E-Line aerials are ANSI A92.2-compliant, allowing for rapid setup and precise remote control. Plus, we can customize your machine with our 'Office in the Sky' platform tools and body packages. Depending on your needs, we can go even further, with special boom lengths, platform sizes, 46 or 500kV insulation and more.
Specialized outriggers or other application-centric solutions.
Strongest turret to turret box connection (most turret bolts and widest diameter).
Largest diameter hydraulic lines for more flow and increased speed during operation.
Boom winch mounted above boom to maximize bed space.
Largest cable carrier to accommodate most tools in platform.
Custom paint options.
Military-grade non-skid coating on bed.
Platform control-enable foot switch to prevent inadvertent boom movement.
Auxiliary sheave option on boom tip to get winch cable closer to work area.
Elliott will engineer your machine with:
20,000 ft/lb two-speed auger with up to a 36" bit (26- & 30-ton BoomTrucks and Digger Derricks).
BoomTruck and Digger Derrick wireless remote controls with LMI display.
HiReach 5,900- to 14,000-lb. boom winch.
Two-section telescopic jibs with heavy duty attachment ears.
BoomTruck two-person heavy-duty work platforms with yoke or rotation mechanism.
Custom work lights and safety lighting.
Full cab guard to protect truck chassis.
ANSI Category "C" 46 KV insulation on HiReach.
Interested in Speaking With an Elliott Expert?