Truck-mounted cranes, also known as boom trucks, are an indispensable tool that allow for a wide range of applications over various industries, from electrical construction to railroad maintenance. Working with Elliott to select an array of standard and optional features allows companies in virtually any industry to customize the best equipment for their applications.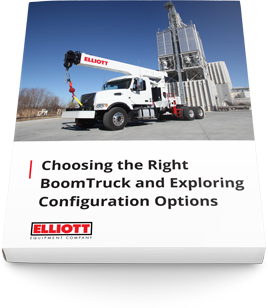 Use this guide to help customize your next Elliott BoomTruck by identifying:
Special tasks unique to your application and the equipment needed to complete them.
Operating definitions and job site terrain.
Control and remote control requirements you plan to use on jobs.
Added personnel lifting capabilities as needed by your job.
Submit the form to receive the guide.