DO MORE WITH THE D86 DIGGER DERRICK
Built to work hard, day after day, year after year, the digger line boasts Elliott's high boom pinpoint geometry allowing for maximum power out of the hole, as well as features offering ergonomic seating and a variable displacement piston pump.
As the latest addition to our ANSI 10.31 derrick digger product line, the D86 joins the already popular D105 and the D115 as a heavy-duty force. Specifically designed for utility transmission line construction and maintenance work, the D86 boasts a 86 foot sheave height, a 41-foot digging radius and 20,000 foot-pounds of digging torque all while comfortably mounting on a tandem axle chassis. It offers the same ergonomic seated control console as the D105 and D115.
Check out our website for a spec brochure or to request a quote!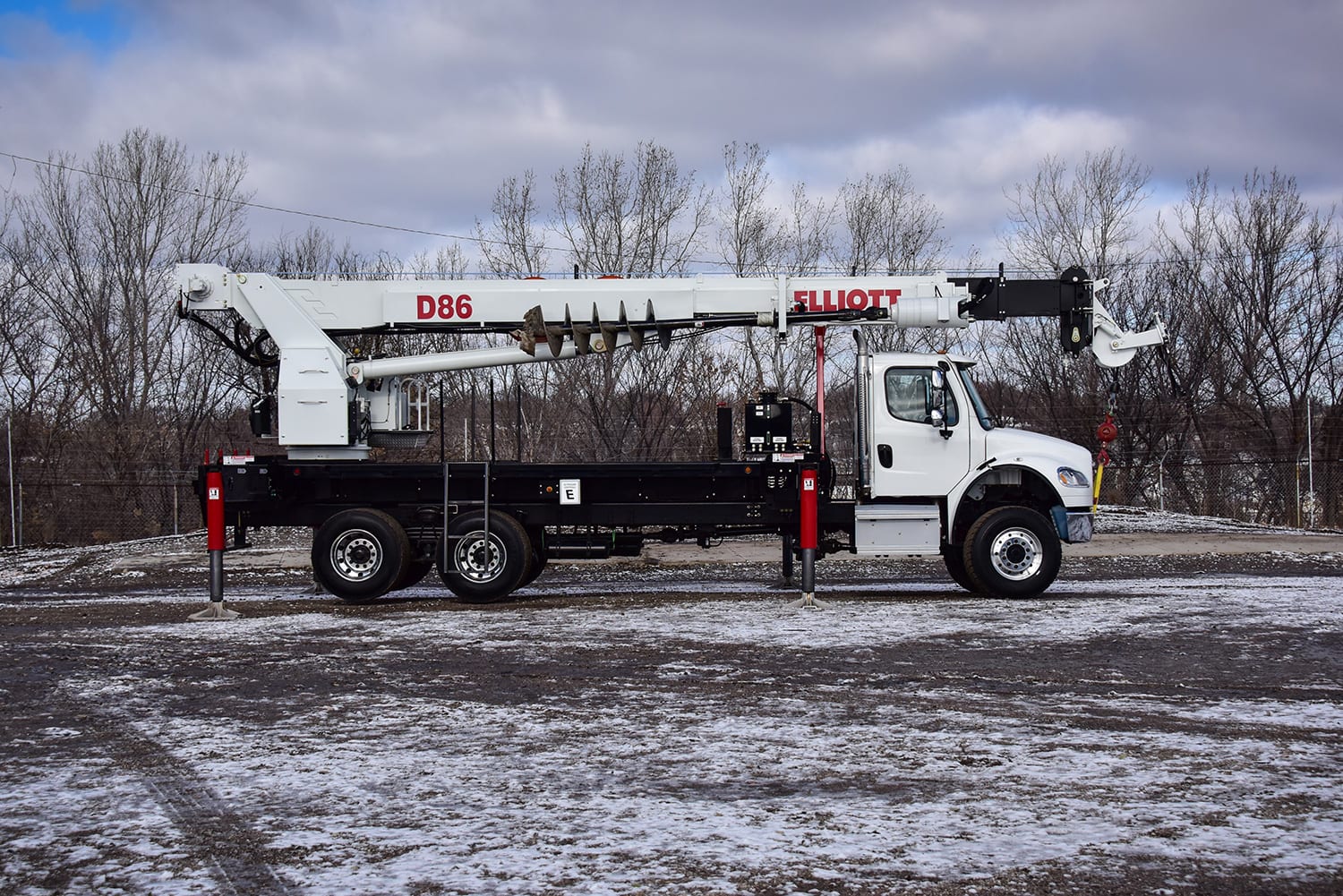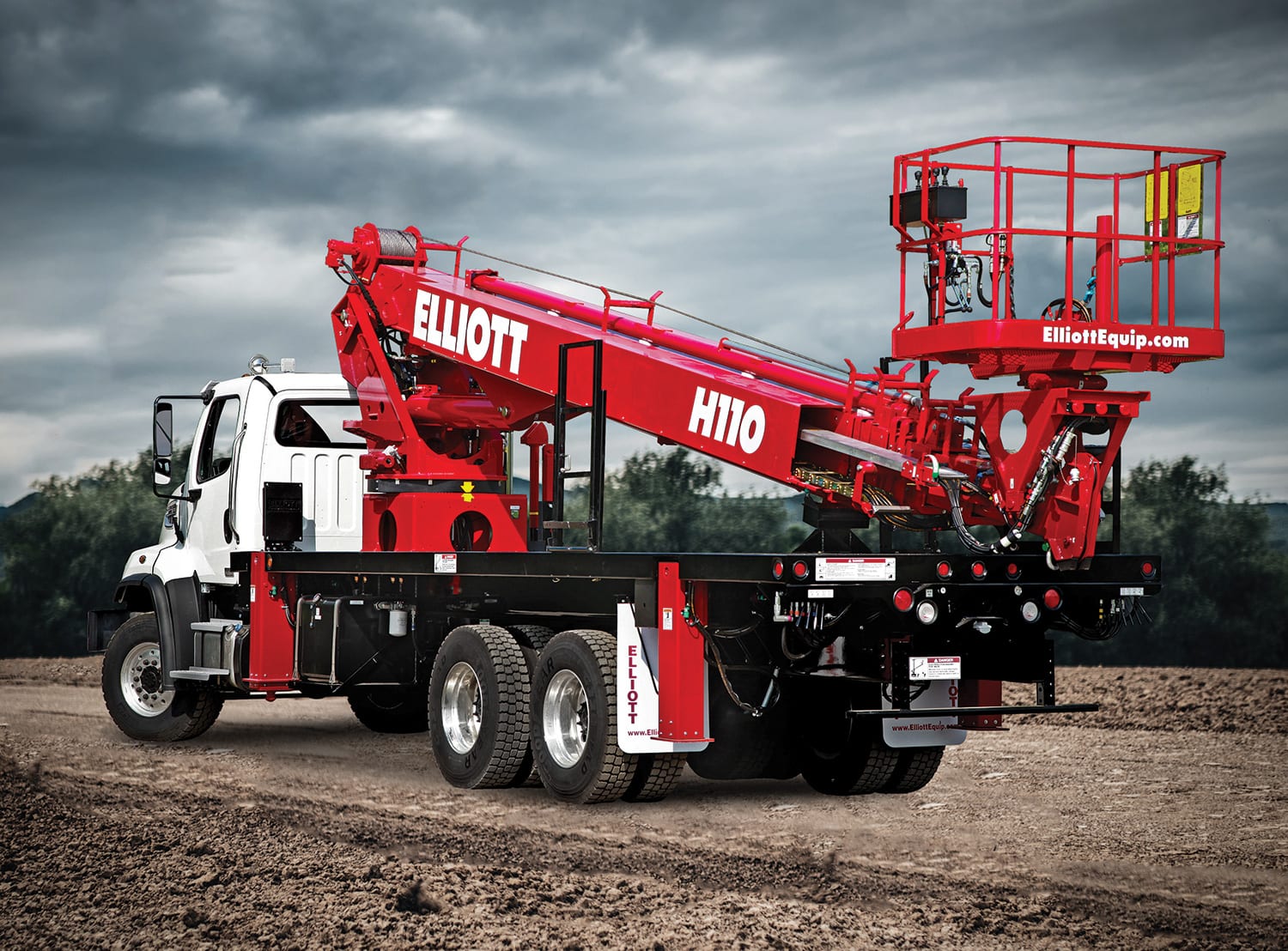 Sourcewell Success Story:
CLARK COUNTY NEVADA - AUTOMOTIVE DIVISION
Buyer: Clark County Nevada - Automotive Division
Model: H110: 110-foot HiReach Material Handling Aerial Device
Application: County Facility and Park Maintenance
Why did they choose Elliott? They had a fairly new H110R in their fleet and it worked great for their applications.
Why did they spec the unit like they did? They specified a unit similar to the one they currently had. The only major differences was the addition of a jib and winch, which made the unit an enhanced multi-purpose truck.
Was there anything special about the sale to note? There was no real competition. They knew what they wanted, and buying it through Sourcewell made the process much easier!
EMPLOYEE PROFILE:
DANIELLE GRAALFS
When did you join Elliott?
March 2014.
What is your favorite thing about Elliott?
The people! We have a great team who is dedicated to building our units, and each one of them brings something unique to the table.
What accomplishment at Elliott are you most proud of?
Building the Elliott team and being a part of our changing culture. Things have changed for the good since I started here, and I am proud to be a part of making that change.
What accomplishment outside of Elliott are you most proud of?
Being a mother.
What is your favorite Elliott product and why?
I can't pick one, maybe the Track Units. It is just so amazing to see what Elliott builds, right in the middle of Omaha!
What are your hobbies?
Reading and weight lifting.
What is your all-time favorite movie, TV series or musician?
Movie: Dirty Dancing and The Breakfast Club.
TV Series: Law & Order SVU.
Musician: Tim McGraw.
What is your favorite sports team?
Denver Broncos
Safety Tip: ANNUAL INSPECTION
Take the time to perform critical inspections!
Required annual inspections are important not only for safety reasons but also to collect critical information that helps keep equipment in service. Daily, weekly, and monthly inspections are required as well. Because logbooks cover a wide range of data points over time, the diligence pays off in many ways:
Repetitive logging allows operators to become more familiar with the safe operation and maintenance of their equipment.

Routine checks let mechanics "see around corners" by identifying possible problems before they become serious issues.

Identifying and promptly resolving issues based on periodic log entries increases the probability that equipment will sail through. annual inspections with no trouble.

This process helps to minimize risks inherent in aerial lift operation.
What to Inspect

Inspections should include vehicle components, lift components, and work zones. 

Vehicle components include but not limited to, proper fluid levels, wheels and tires, lower-level controls, steering, brakes, and the horn, gauges, lights, and backup alarms. 

Lift components include operating and emergency controls, personal protective devices, hydraulic, air, pneumatic, fuel and electrical systems, and other components and parts.

Work zone inspections should identify possible hazards before and during the operation of an aerial lift. 

Refer to your Elliott Operators Manual for a detailed listing of inspection criteria.

Remember to follow all Industry Standards and Federal, State and Local laws.
For additional safety tips and more information on ANSI standards affecting aerial work platforms, refer to this OSHA A92 fact sheet.